This page contains brief reports and photos of special events the REU Site hosted or participated in.
Welcome Meeting
Sunday, 06/17/12, 05:00pm-07:00pm
The participants of the REU Site assembled in the departmental meeting room for pizza and met their team members. All graduate assistants and faculty of the program introduced themselves and spoke a little to their own research interests.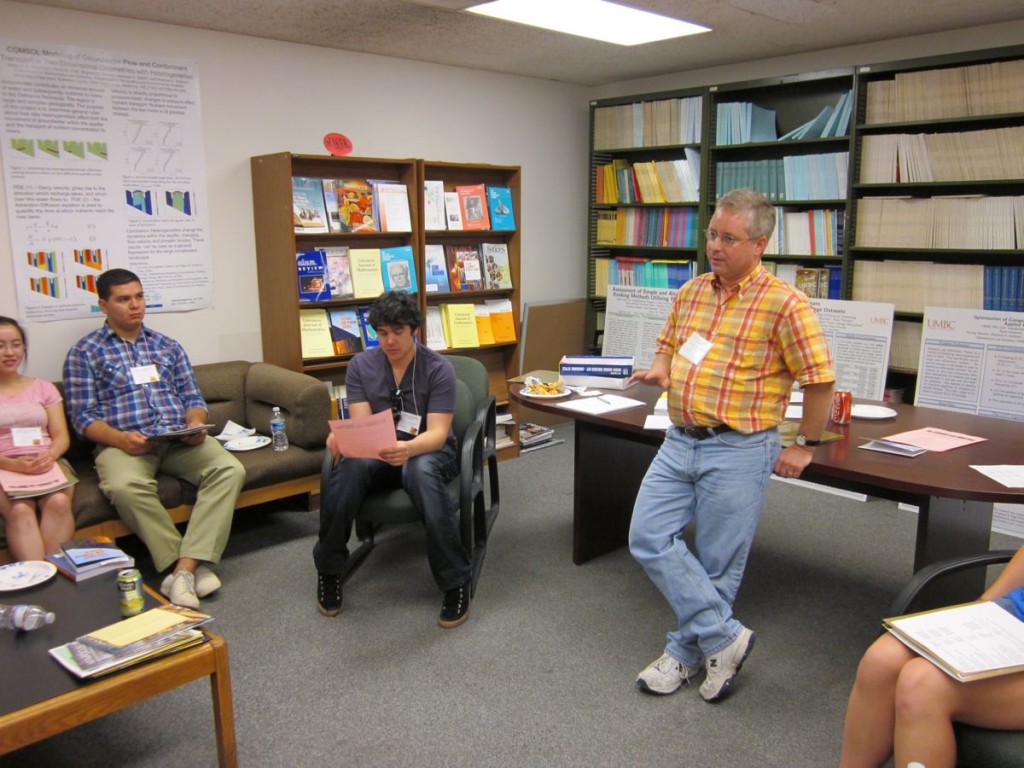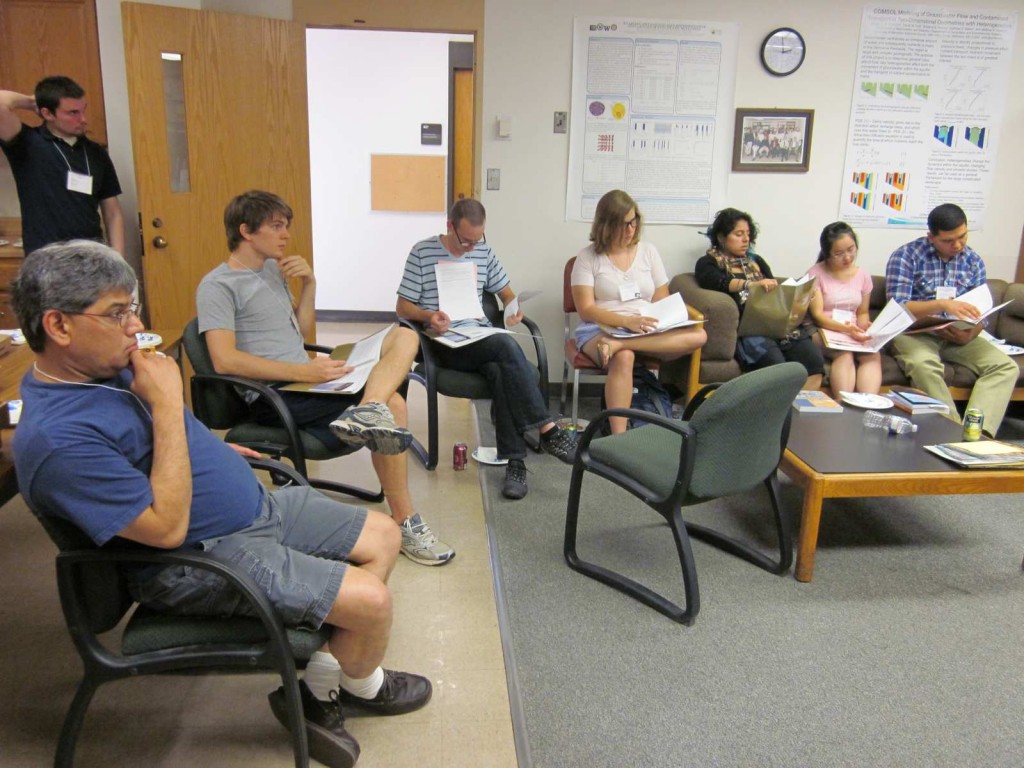 VIP meeting with Dr. Philip Rous, Provost and Senior Vice President
Wednesday, 06/20/12, 09:00am-09:30am
After introducing ourselves to Provost Rous, our team was lucky enough to hear his very unique perspective on mathematics and computing, as well as higher education in general. Solving a math problem, he told us, is just like painting a picture; you need to envision the final product before you can begin working. He also introduced us to some of the characteristic qualities of an education at UMBC, particularly the new CASTLE classroom, specifically designed to spark student engagement. He encouraged us to be active students ourselves, to get as much out of every learning experience as we possibly could. We were very grateful that Provost Rous could take time out of his busy schedule to meet with us.
— Justine Heritage
Presentations by project clients
Thursday, 06/21/12, 02:00pm-04:30pm
The presentations started off with Teresa Lebair, who shared her experience from participating in our 2010 program and offered the participants some valuable advice on doing research. This was followed by presentations of three potential project clients. The coffee break provided a lot of opportunity for additional questions for the clients.
02:00-02:30 Teresa Lebair, TA for Mathematics and Peer Mentor, UMBC
Enabling Physiologically Representative Simulations of Pancreatic Beta Cells
02:30-03:00 Dr. Joel Liebman, Professor, Department of Chemistry and Biochemistry, UMBC
Finding Patterns in Chemical Energetics
03:00-03:30 Coffee break
03:30-04:00 Dr. Uri Tasch, Professor, Department of Mechanical Engineering, UMBC
Bovine lameness models based on nonlinear transformations of Limb Movement Variables
04:00-04:30 Dr. Brian R. Smith, Program Manager, Monitoring Integration, Resource Assessment Service, Maryland Department of Natural Resources
DNR Water Quality Monitoring Programs in Maryland's Tidal Waterways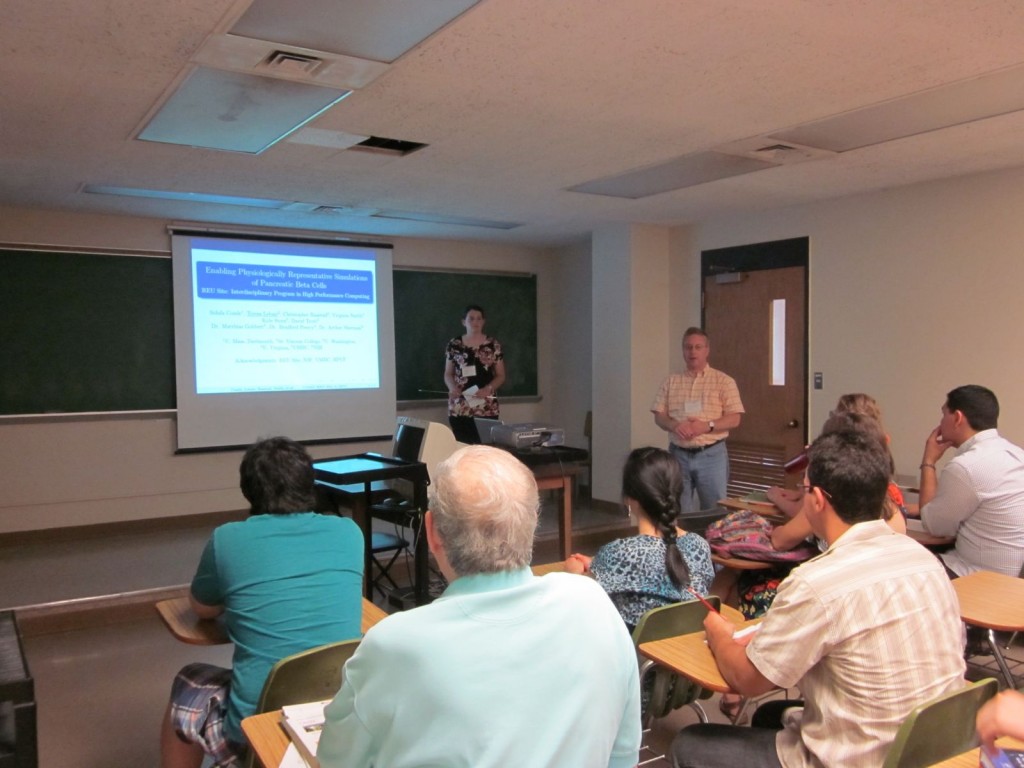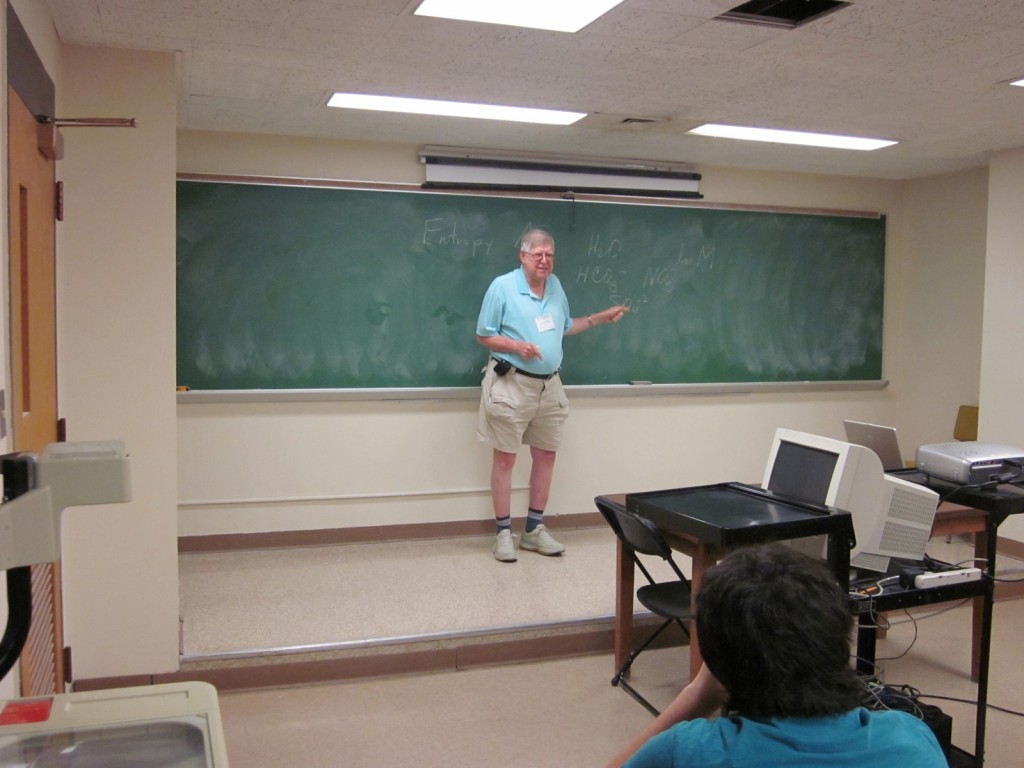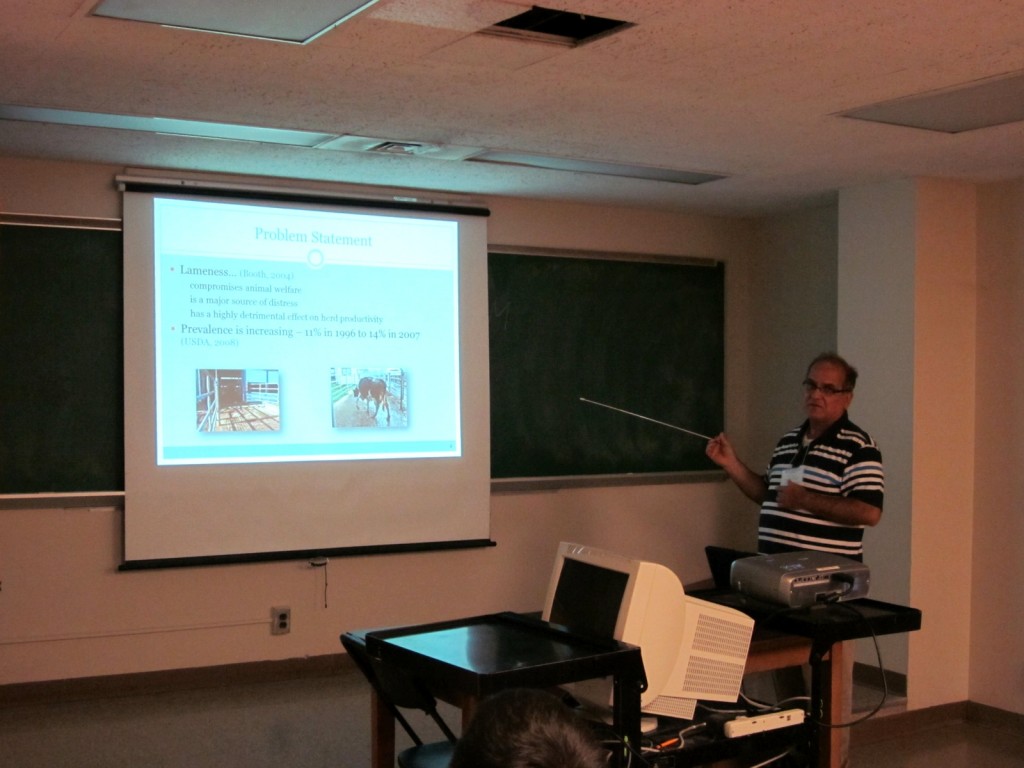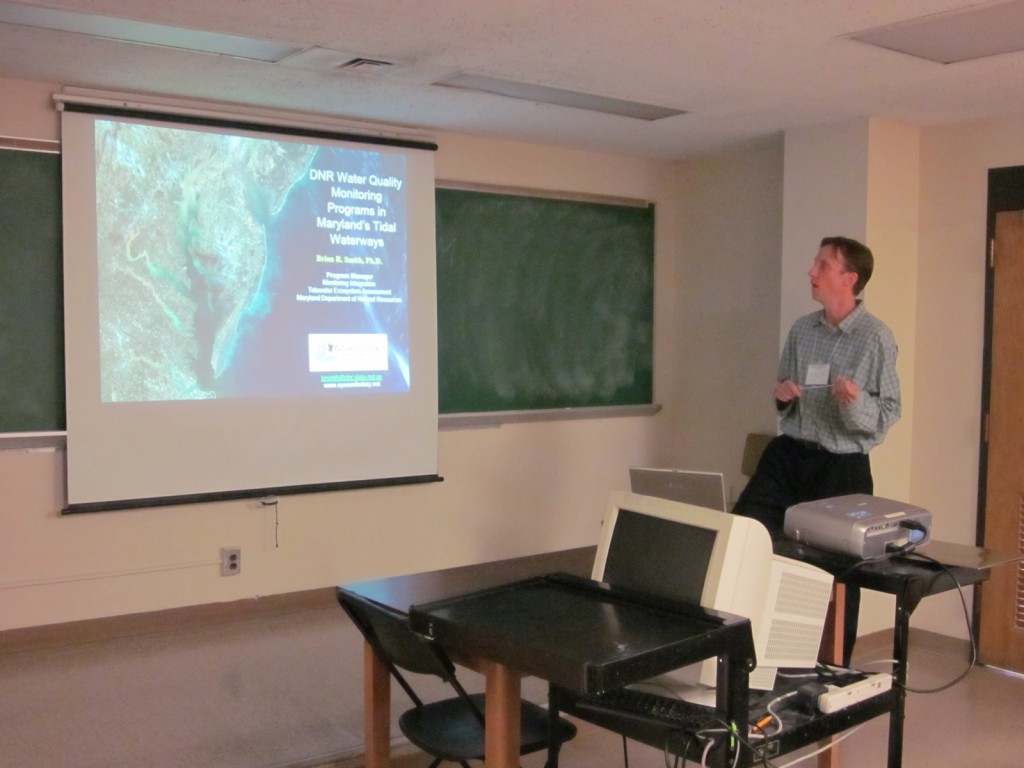 05:30-07:00 We concluded the afternoon of client presentations with a dinner at Hunan Manor in Columbia. It was a chance to talk more informally.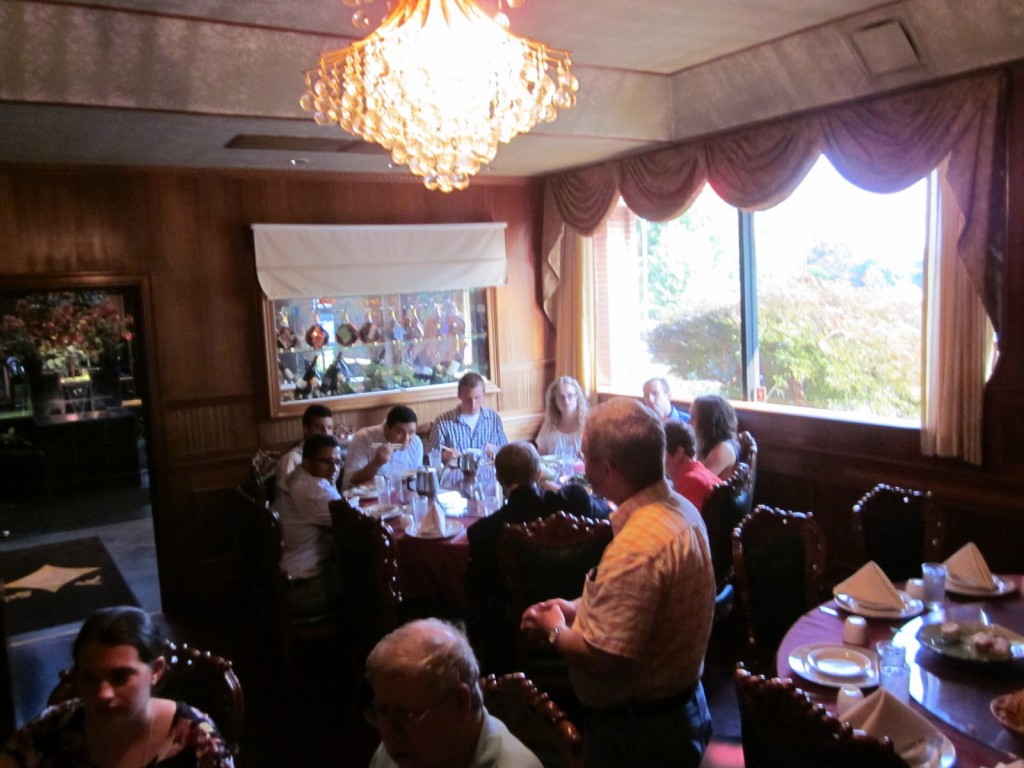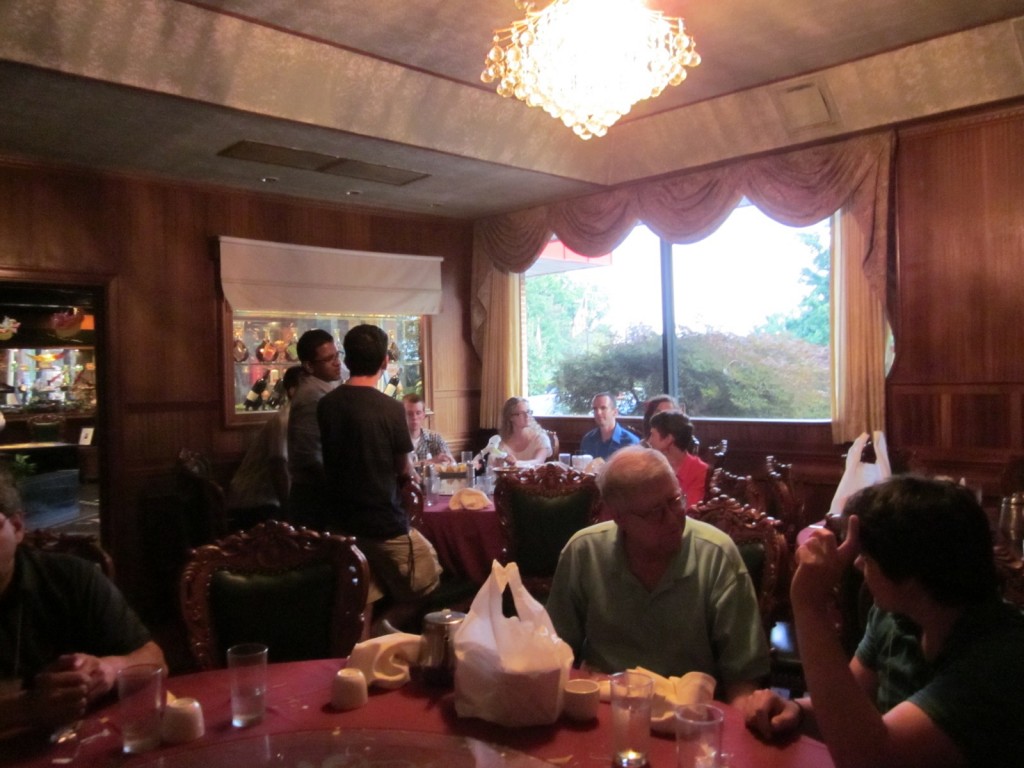 VIP meeting with Dr. William LaCourse, Dean of the College of Natural and Mathematical Sciences
Tuesday, 06/26/12, 09:00am-09:30am
During the discussion, after introductions, Dean William LaCourse talked about his background as a 1st generation college student and his unexpected enrollment in college. A recurring theme in his talk is the importance of doing and choosing a profession that gives one joy, not necessarily what pays more, because he described how throughout his career in different places, money fluctuated. He talked about the necessity to chase ones dream and finding what fits, which I believe helped a lot of us in thinking about our future.
— Amy Flores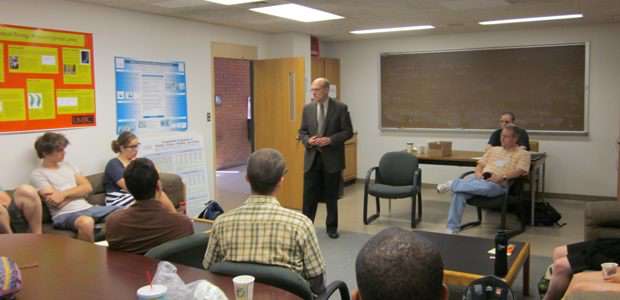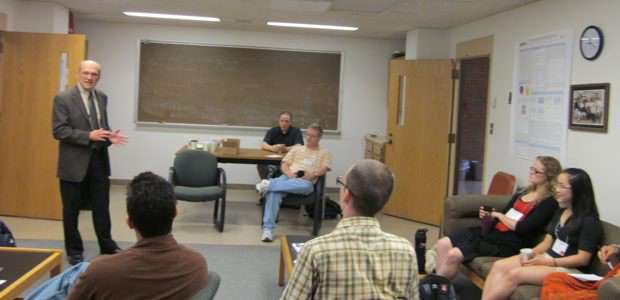 Field Trip to the SIAM Section Summer Meeting
Wednesday, 06/27/12, 08:30pm-09:30pm
On this evening, several participants together with RA Xuan Huang and Dr. Gobbert attended the Summer Meeting of the Washington-Baltimore Section of the Society for Industrial and Applied Mathematics (SIAM). The meeting was in the Mathematics department at University of Maryland, College Park, and we took the opportunity for a short tour of their campus. At this lecture, Professor Elias Balaras of George Washington University gave a talk titled "Tackling Turbulence in Biological Flows". His talk gave much insight as to how parallel computing has benefitted turbulence research, and in turn how turbulence research has benefitted biology and physiology. Specific examples elaborated the multi-scale problems relevant to biomedical devices and cardiovascular circulation. The topics covered in Professor Balaras' lecture had many connections to what the students were currently studying, and it was exciting to see the the many applications of high performance computing. Students also had the fortune to meet many interesting scientists and researchers after the lecture, and were grateful for the opportunity to attend such an event.
— Rosemary Le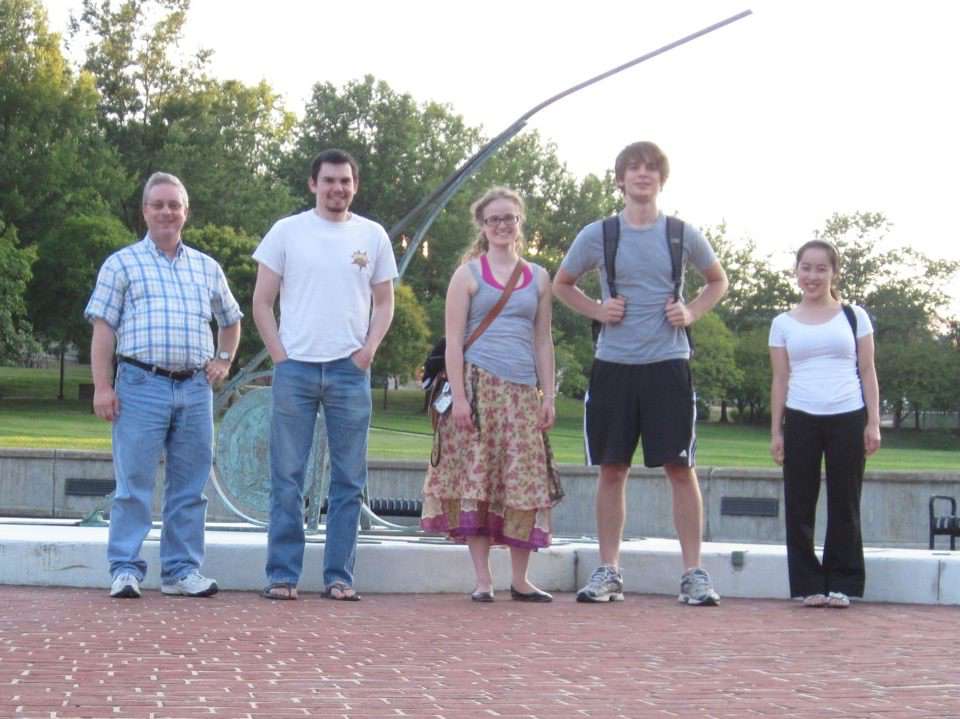 Presentations by project clients
Thursday, 06/28/12, 02:30pm-04:30pm
02:30-03:00 Kyle Stern, HPC Software Engineer, and Martin Gallagher, Technical Program Manager, BCT LLC
Increasing Power Consumption of the High Performance Linpack Benchmark
03:00-03:30 Coffee break
03:30-04:00 Michael Dillon, Director, Office of Institutional Research, UMBC
An Extremely Simple Dynamic Model of a University
04:00-04:30 Richard C. Murphy, Principal Member of Technical Staff, Sandia National Laboratories, and David J. Mountain, Technical Director, Advanced Computing Systems Research Program
Large-Scale Data Analytics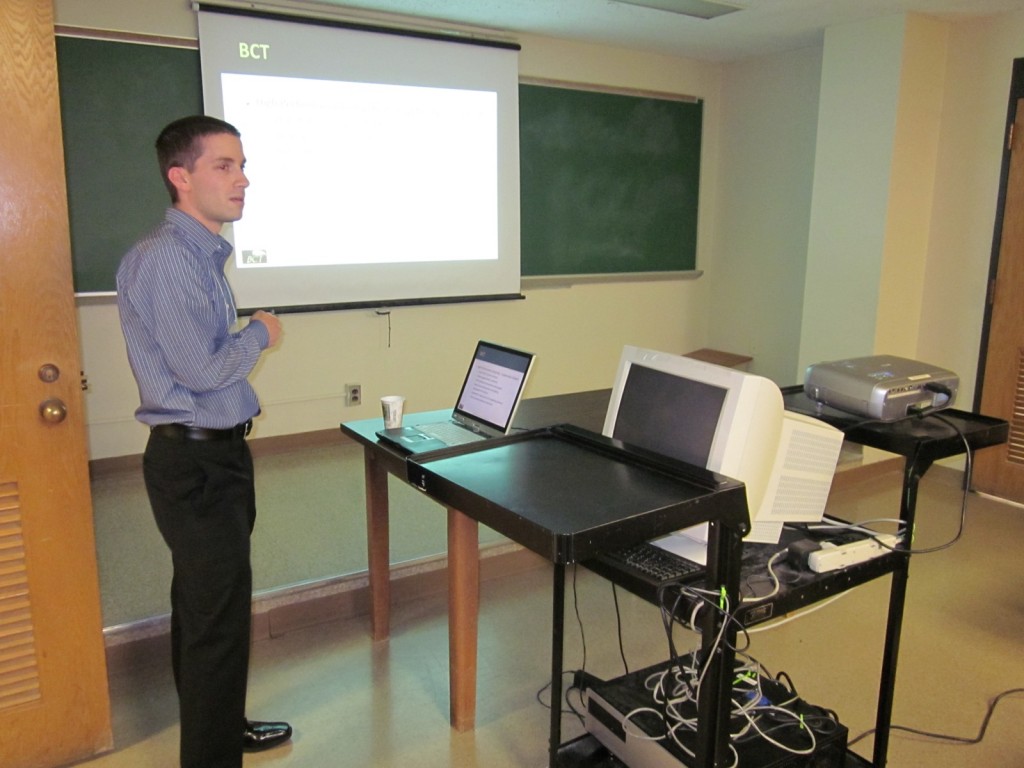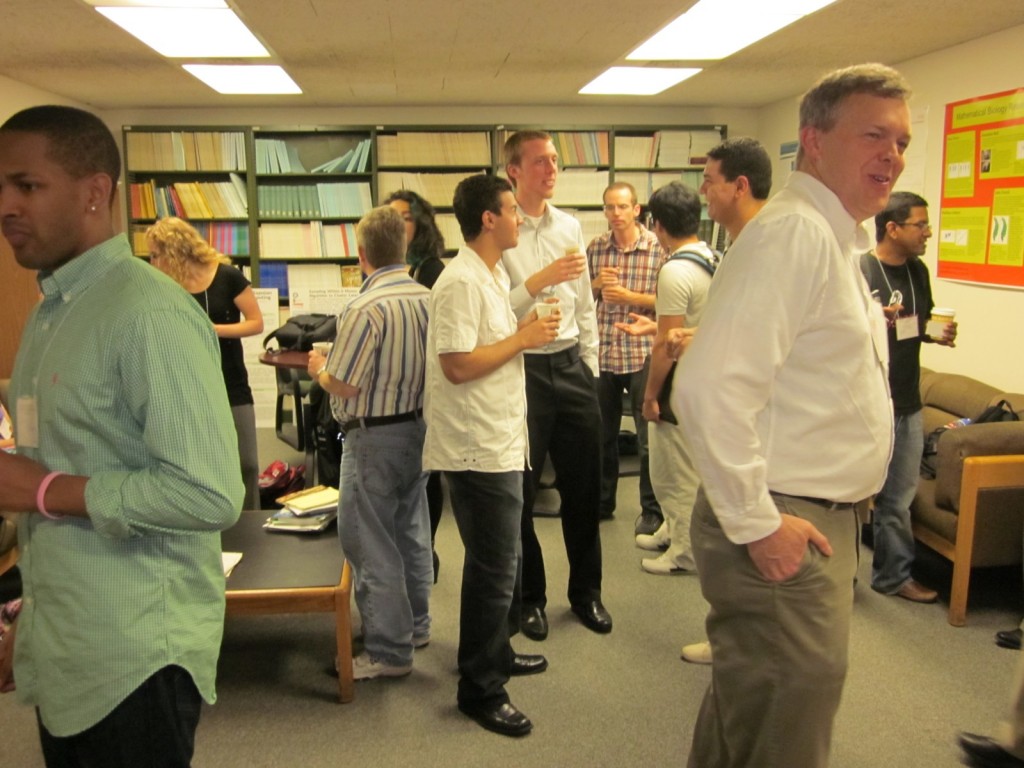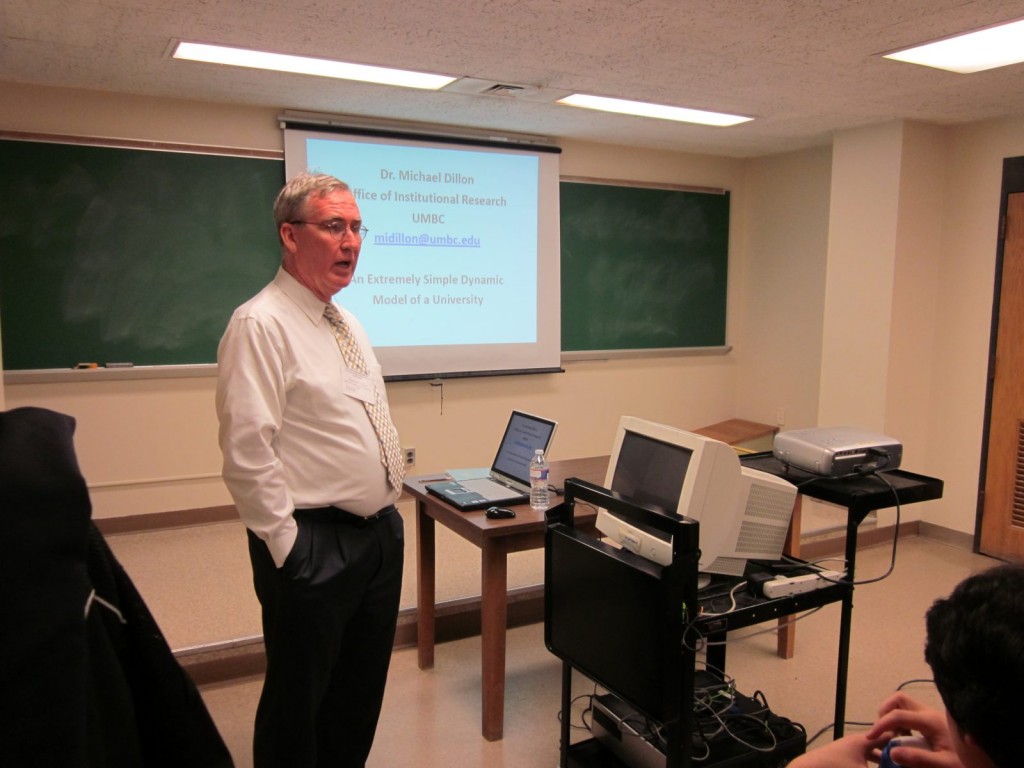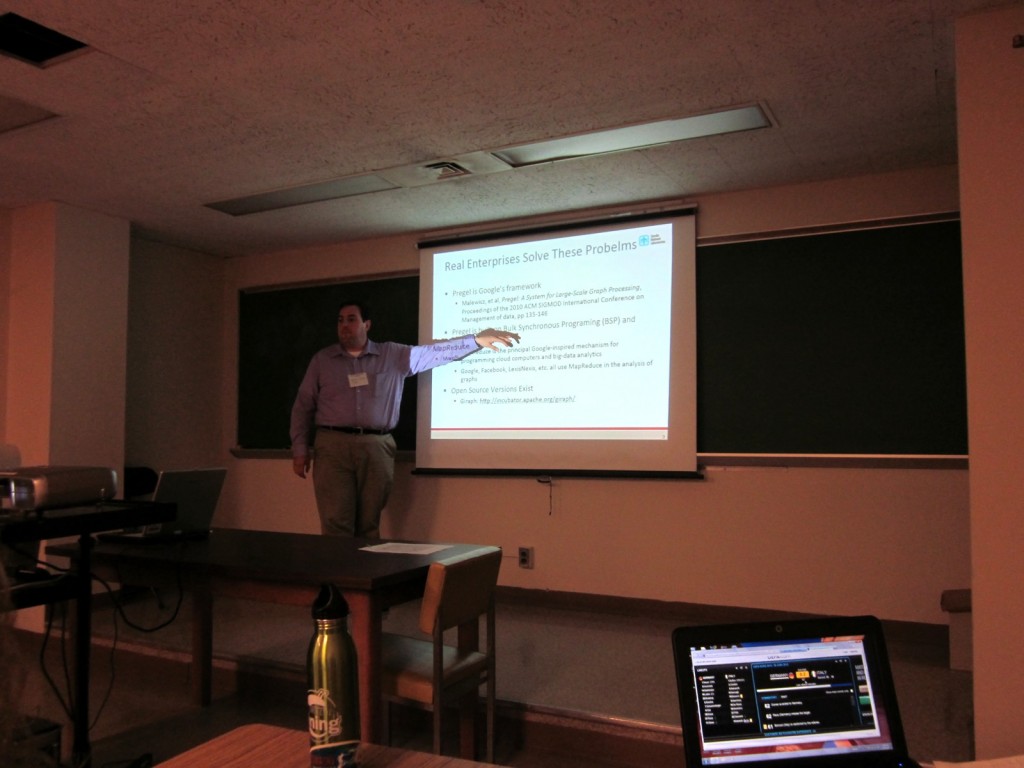 05:30-07:00 We had dinner with the clients at Paradise Indian Cuisine in Woodlawn. The students had already many questions about graduate school and used the graduate student in attendance to good effect.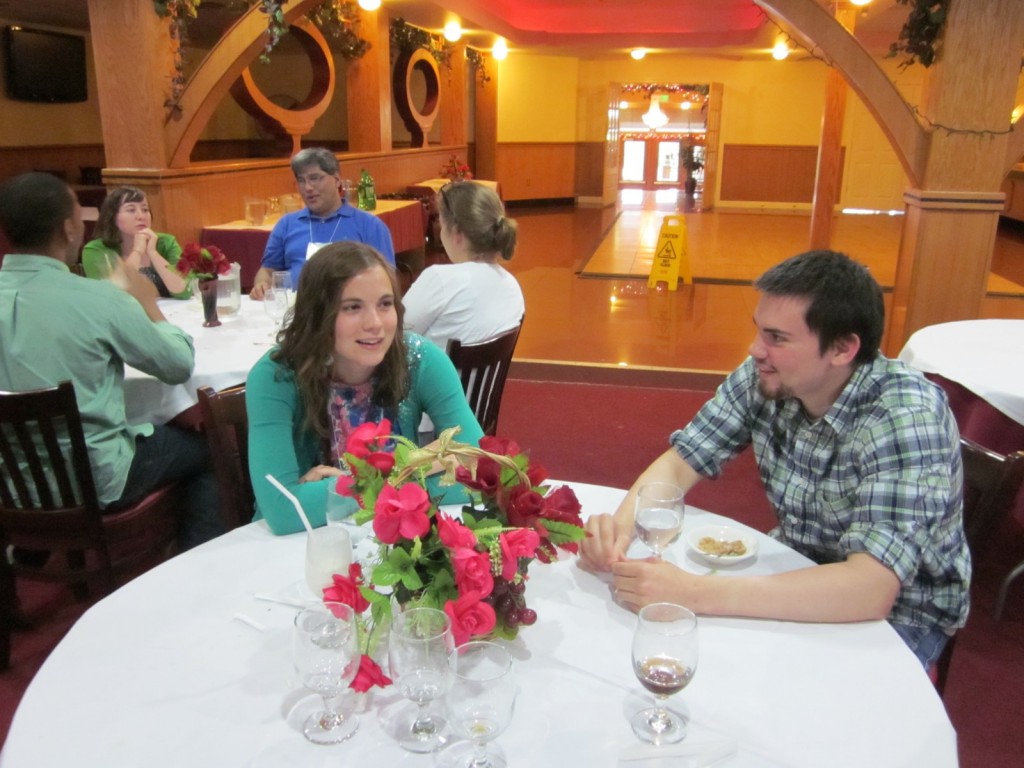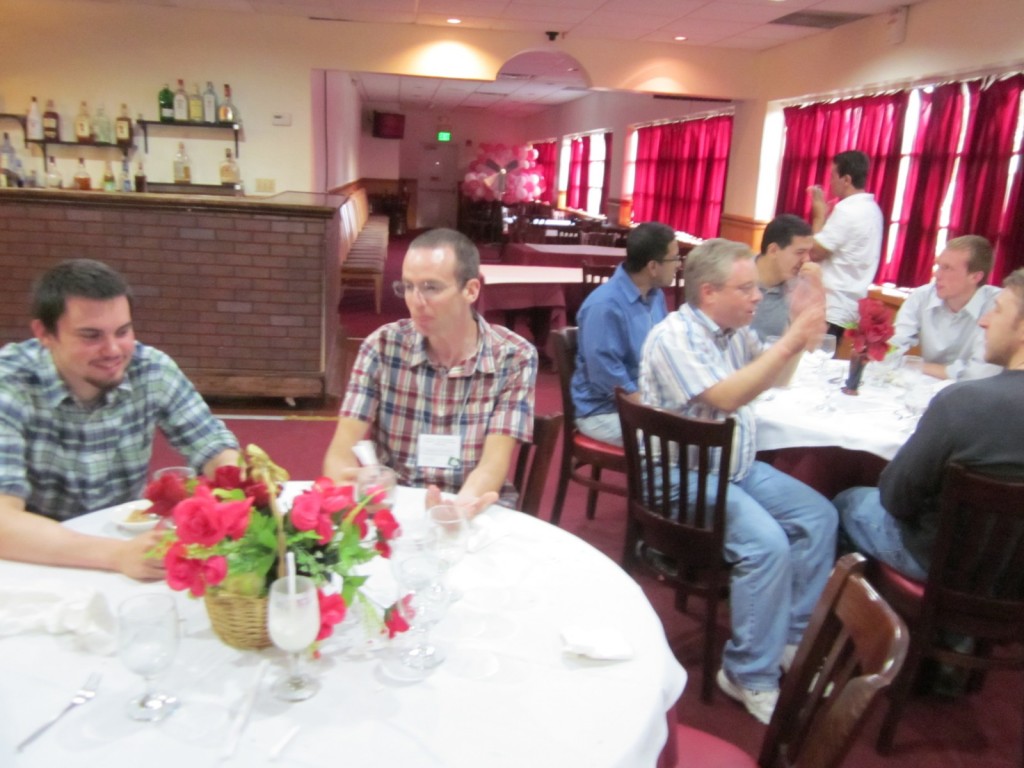 Professional development workshop with Kathy Sutphin, Assistant Dean of the College of Natural and Mathematical Sciences (CNMS)
Thursday, 07/05/12, 04:00pm-05:00pm
This afternoon we were visited by Kathy Lee Sutphin. She is the Assistant Dean of CNMS here at UMBC and is also the organizer of the Summer Undergraduate Research Fest (SURF). She gave us a presentation on how to prepare a powerful scientific poster. The presentation gave us insights as to what needed to in a poster as well how to make it appealing to the audience. She stressed that great posters should be able to effectively communicate the importance and relevance of our work. She taught us some of the do's and don'ts of presenting our work whether it be in poster form or orally. We were allowed to ask her questions about this process and got to know a little bit about her background. Having been a writer, she was able to use those skills to write grants for UMBC. In fact, her grants have earned over 13 million dollars for UMBC. By asking her question, Mrs. Sutphin provided interesting insight as to how funding and grant writing works.
— Nehemias Ulloa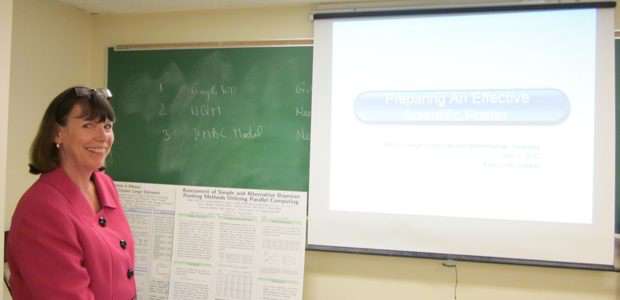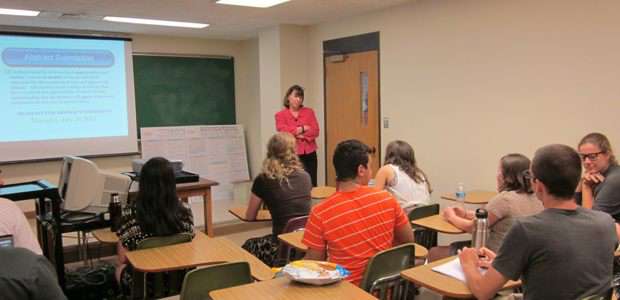 VIP meeting with Dr. Freeman Hrabowski, President of UMBC
Friday, 07/06/12, 11:00am-11:30am
This morning, we were visited by the President of UMBC, Dr. Freeman Hrabowski. After individual introductions and warm welcomes all around, Dr. Hrabowski spoke of his pie-loving, knowledge-seeking adolescence in Birmingham, AL, during the civil rights movement. He conveyed how his personal experiences as both a student and an educator have proven that the lifelong passion and pursuit of learning and problem solving can be invaluable for everyone, especially those in the sciences. Dr. Hrabowski spoke at length about the opportunities for today's students going into research careers in the STEM fields, in particular in the Baltimore-Washington corridor of government agencies and contractors.
— Jenny Louthan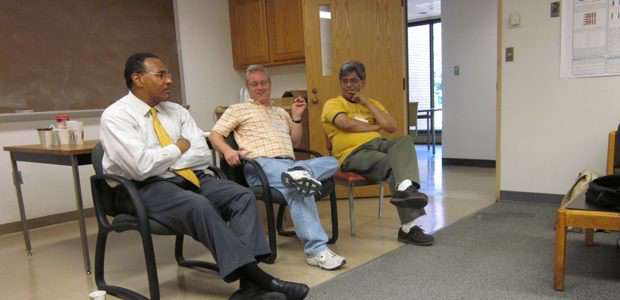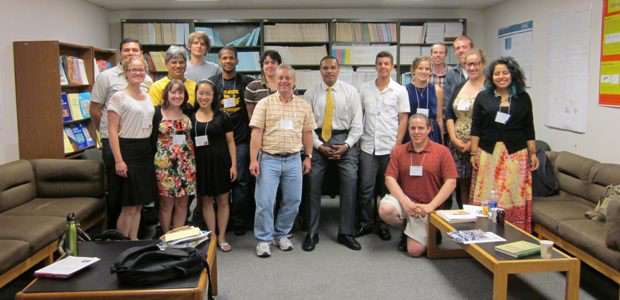 Professional development workshop with Dr. Janet Rutledge, Vice Provost and Dean of the Graduate School
Thursday, 07/19/12, 04:00pm-05:00pm
This afternoon, Dr. Janet Rutledge, Vice Provost and Dean of the Graduate School, gave a presentation regarding graduate school. She began by explaining the different graduate degrees, focusing on the difference between pursuing a Masters versus a Ph.D. We received meaningful insight on which degree to look into depending on our ultimate career goal. Dr. Rutledge then went on to discuss different funding available for graduate school including grants, fellowships, teaching assistant positions, research assistant positions and loans. Dr. Rutledge followed this with some guidance on what graduate programs are looking for in a graduate application and how to apply for the fellowships to get funded. Overall, Dr. Rutledge's presentation helped prepare us to write more successful applications as well as guide our degree goals.
— Annie Ross
Field trip to Advanced Computing Systems
Friday, 07/20/12, 09:30am-11:30am
This morning, we visited the UMBC Research Park, located right next to the UMBC campus. There we met with David Mountain, the Technical Director of the Advanced Computing Systems Research Program for the Department of Defense. He gave us an introductory presentation before splitting the group in half in order to better listen to various presentations of the different research projects currently underway there. One project is about iris deformation, while another attempts to remove watermarks from passport photos in order to improve facial recognition. After we had heard all of the presentations, we rejoined in the conference room to have some of our questions answered about the differences between working for the NSA here and at Ford Meade, where we will be visiting next week.
— Annie Castner
Field Trip to the National Security Agency
Tuesday, 07/24/12, 12:00noon-04:30pm
Our group was given the chance to visit the National Security Agency (NSA) at Fort Meade. Upon arrival we all had to undergo extensive security checks that involved actions like having our finger prints taken. Once cleared, we all received a badge with which we could enter NSA buildings (granted, it was a temporary badge that had limited access, but we still got a cool badge!). Once inside, Dr. Mel Currie enlightened us with how the techniques of Bayesian inference could be used to solve for one's ancestry given a genomic sequence. This introduction showed us how the very theoretical mathematics we are learning in school can have applications to many problems that agencies like the NSA find important. After this introduction, we were allowed to ask questions to a panel of employees at the agency. Some important ideas that were conveyed was the importance of learning how to be a good problem solver, the opportunities the NSA gives, and a fact that made Dr. Neerchal quite happy to hear: statistics is really important. This enlightening trip was very inspiring and helpful!
— Chris Rackauckas
Field Trip to BCT LLC
Wednesday, 07/25/12, 02:00pm-05:00pm
Today the REU participants along with UMBC student Matthew Brewster and Dr. Gobbert visited BCT LLC, a company that does contract work for the intelligence community including work in HPC. We heard from An Nguyen, Director of Staffing, as well as CEO Stephen Tate about opportunities for doing work as government contractors and the high demand for people with skills we have acquired here at the HPC REU Site. Also present were Martin Gallagher and UMBC graduate Kyle Stern. Kyle is a former HPC REU Site RA from 2010 but we know Martin and Kyle from their project presentation when they were potential clients. Martin and Kyle also encouraged us to consider a career in contracting work, emphasizing Kyle's career path which is particularly relevant to the students intending to go to graduate school. Everyone at BCT LLC was very encouraging and eager to support students choosing contracting work.
— Jordan Angel
Professional development workshop with Dr. Ken Baron, Director of Office for Academic and Pre-Professional Advising
Thursday, 07/26/12, 04:00pm-05:00pm
This afternoon we were visited by Dr. Ken Baron, the Director of Academic and Pre-Professional Advising. He spoke with us about making the transition between undergraduate school and graduate school. He emphasized that each student needed to make his/her own decision about the timing and importance of graduate school. Dr. Baron stressed that it is important to have a close relationship with faculty in order to have strong recommendations and faculty guidance. He explained how to write a well-organized essay by giving real experiences in order to make yourself more valuable to graduate schools. We learned the importance of building a strong resume as well as having a back-up plan. Afterwards, we were able to speak more closely with Dr. Baron over a stimulating dinner at True Grit's.
— Christian Weigandt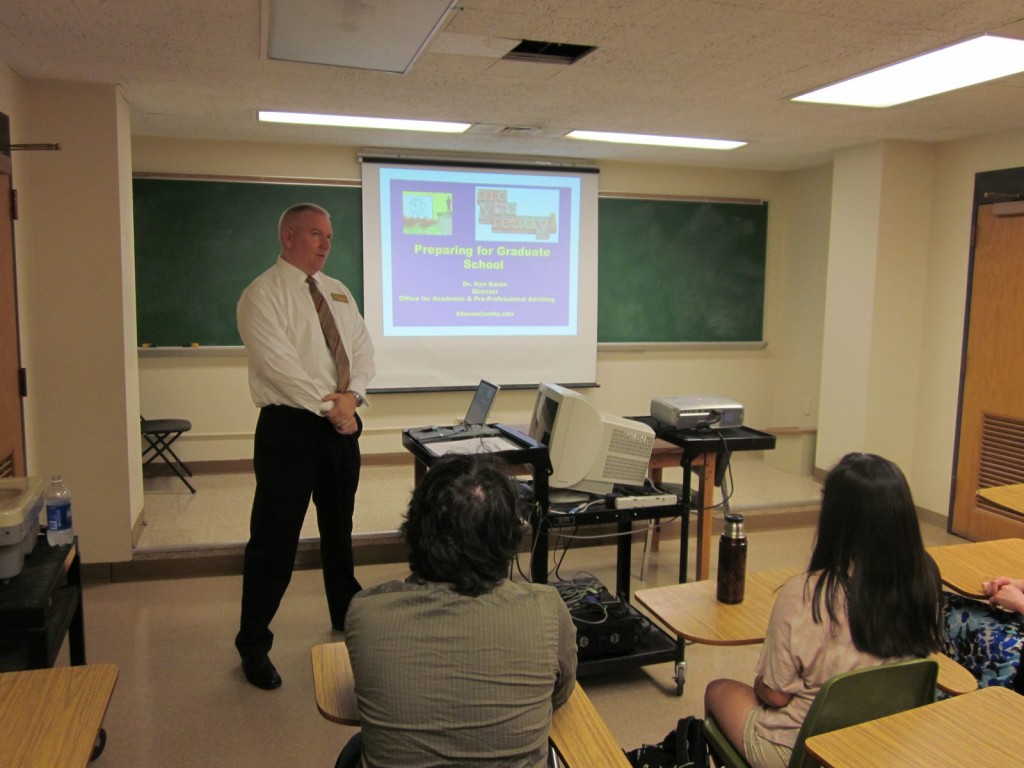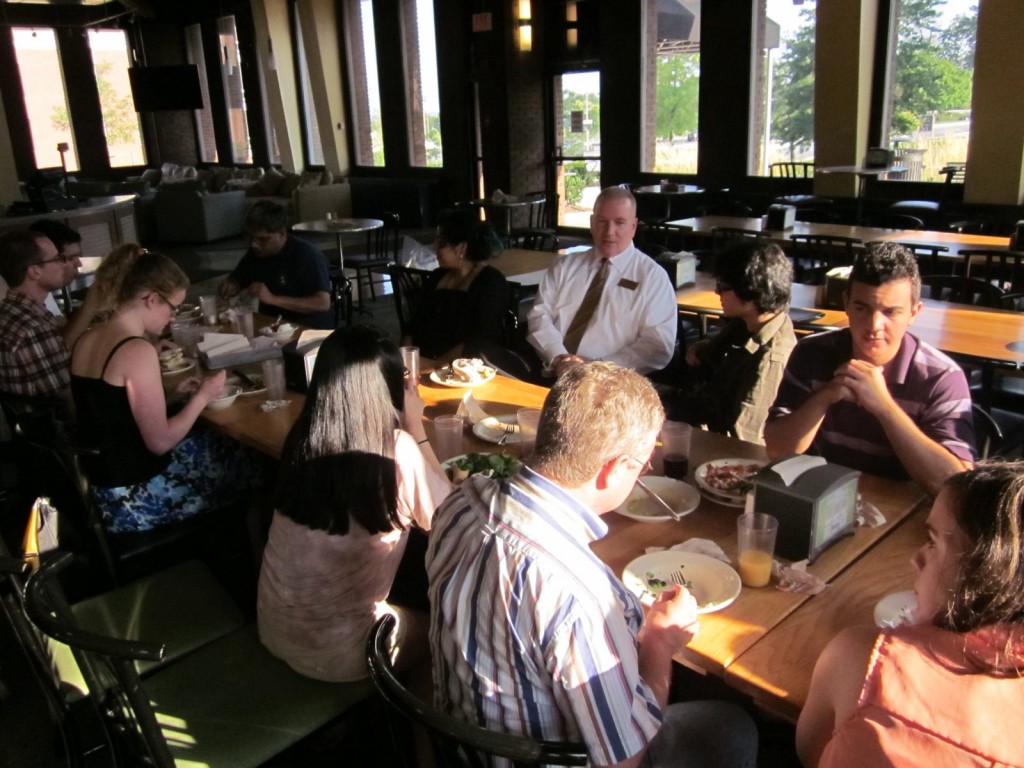 VIP meeting with April Albertine, Statistics graduate student and NSF Fellowship recipient, and Teresa Lebair, Applied Mathematics graduate student and NSA Director's Summer Program intern
Friday, 07/27/12, 09:00am-09:30am
This morning April Albertine and Teresa Lebair came to speak with us.
April is currently a graduate student at UMBC studying statistics and was just awarded an NSF Fellowship. April informed us that the fellowship pays for all of her tuition plus a $30,000 yearly stipend. She also told us about the process of applying. The application involves three essays and takes a lot of time to complete well. She ended up neglecting her classes for three weeks in order to complete the application. April felt that the process would have still been worthwhile even if she didn't receive the fellowship because it helped her to think about possible research topics and projects.
Teresa Lebair is a also a graduate student at UMBC and is one of the TAs helping with this summers REU site. She told us about her experience with the NSA's Director's Summer Program. (The full list of internship programs for internship and scholarship programs at the NSA is available at this webpage.) The application is due in October because of the time involved to get a Top Secret Clearance that the NSA requires for the program. A thorough background check was done as well as a polygraph test and an interview by a psychologist before she gained the clearance. The work she was involved in at the NSA impressed a four star general so much so that he gave her his 'coin'. In the military, these coins are given only in rare cases of exceptional performance. When asked how the Director's Summer Program compares to the this REU Site, she replied that UMBC's REU Site is definitely more intensive of a program.
— Nathan Wardrip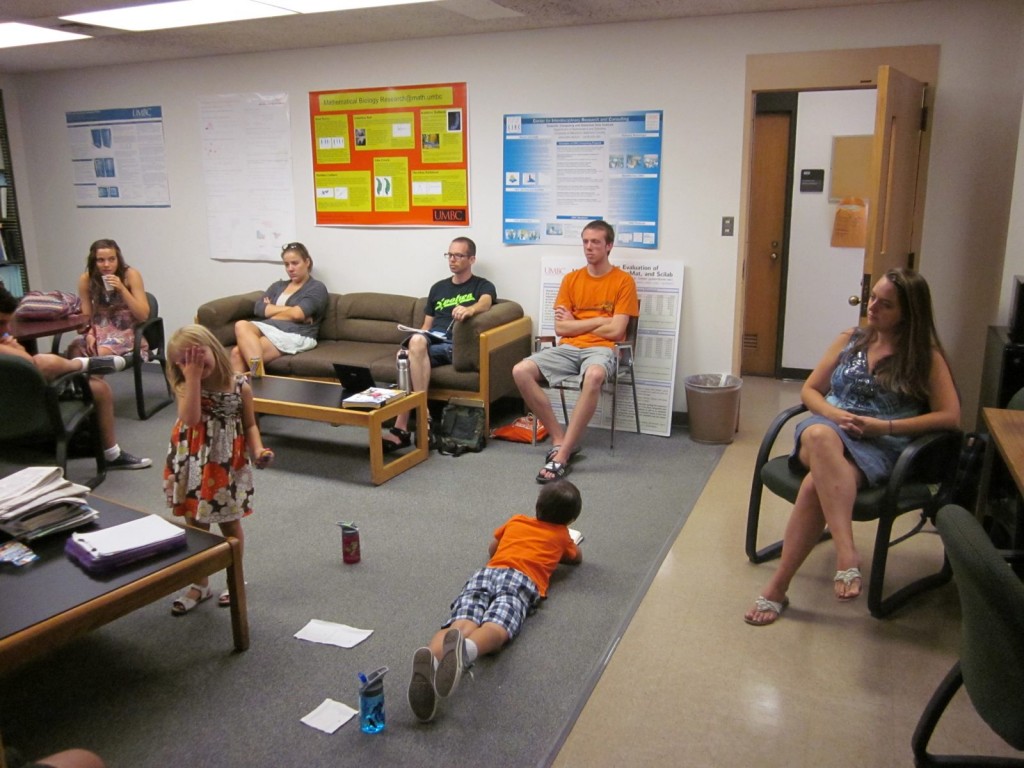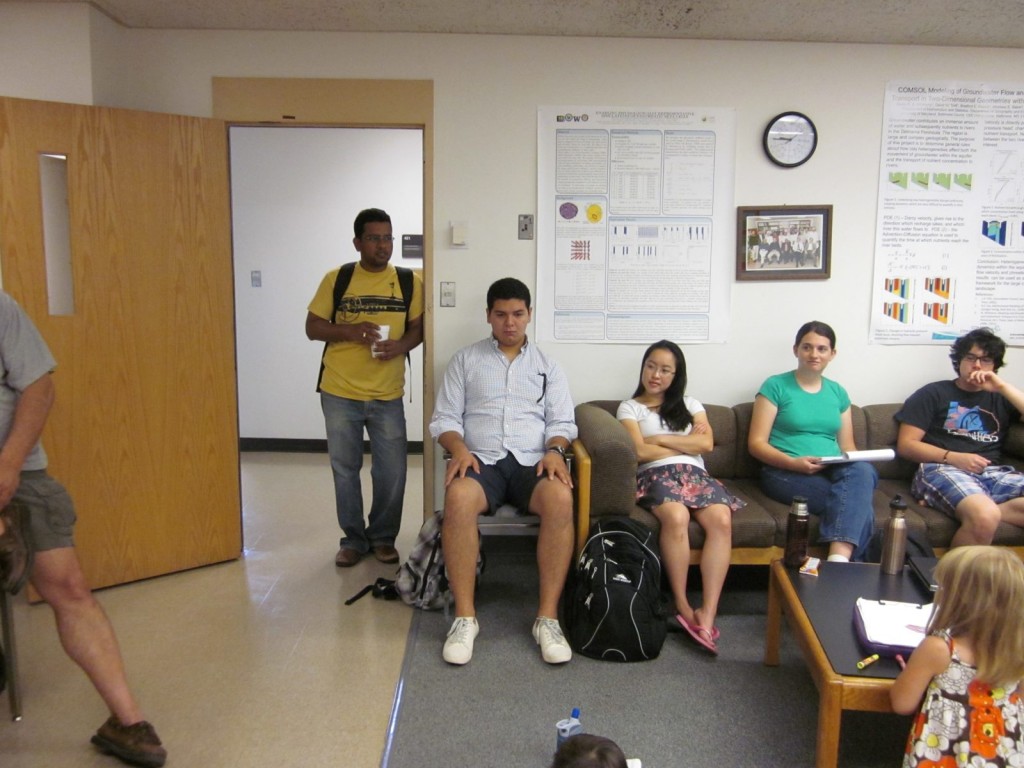 VIP meeting with Dr. Muruhan Rathinam, Graduate Program Director for Applied Mathematics
Tuesday, 07/30/12, 09:00am-09:30am
This morning, we were visited by Dr. Muruhan Rathinam, Director of the Applied Mathematics graduate program. We, the REU students, introduced ourselves and gave a short introduction of our projects and Dr. Rathinam asked us some questions about them. Then, we asked some questions like the difference between Statistics and Applied Mathematics in which Dr. Rathiman empathizes that "at the graduate level we all do applied math" and that the Statistics are "Mathematics, Probability Theory, and Philosophy" the latter pertaining to how a person interprets data.
After answering some questions, Dr. Rathiman explained to us on what consists the Mathematics graduate program of UMBC. He explained to us the Master's and Ph.D. programs in detail and what is necessary to be successful. The "background in Real Analysis and Linear Algebra" and the "motivation and tenacity" are key words to achieve this. Also, he told us about the application process and how they determine which students are admitted. We learned that the research can be an important factor for the application process. Finally, he motivates us to contact him if we were interested in the program or if we have any questions.
— Edwardo Rivera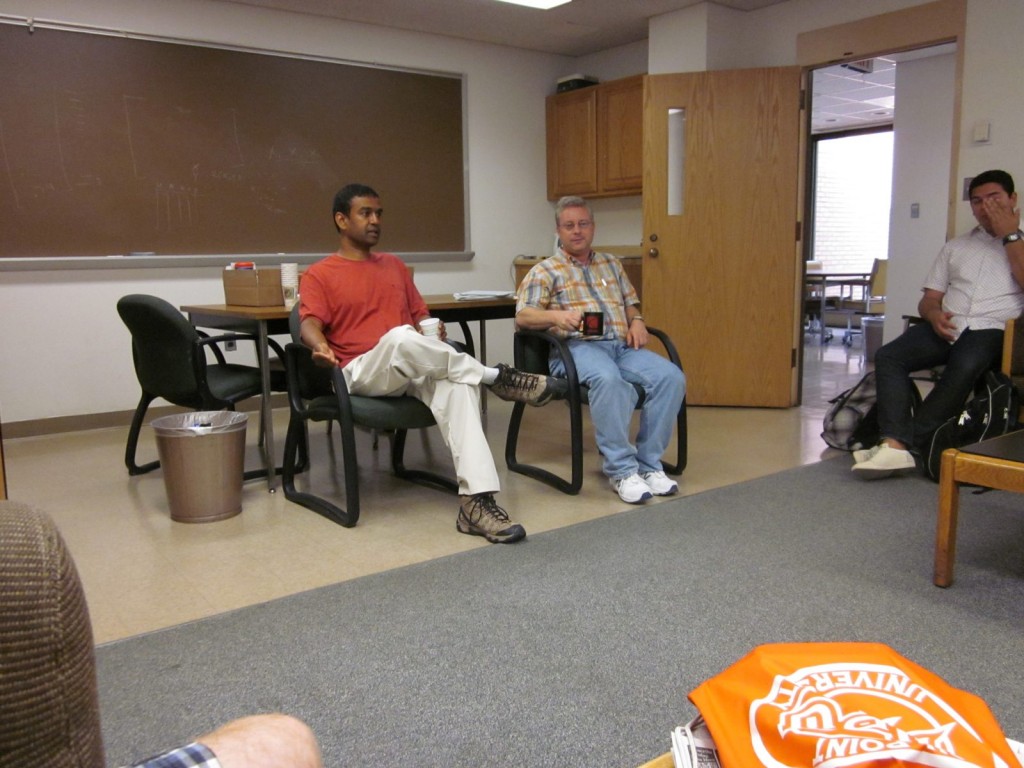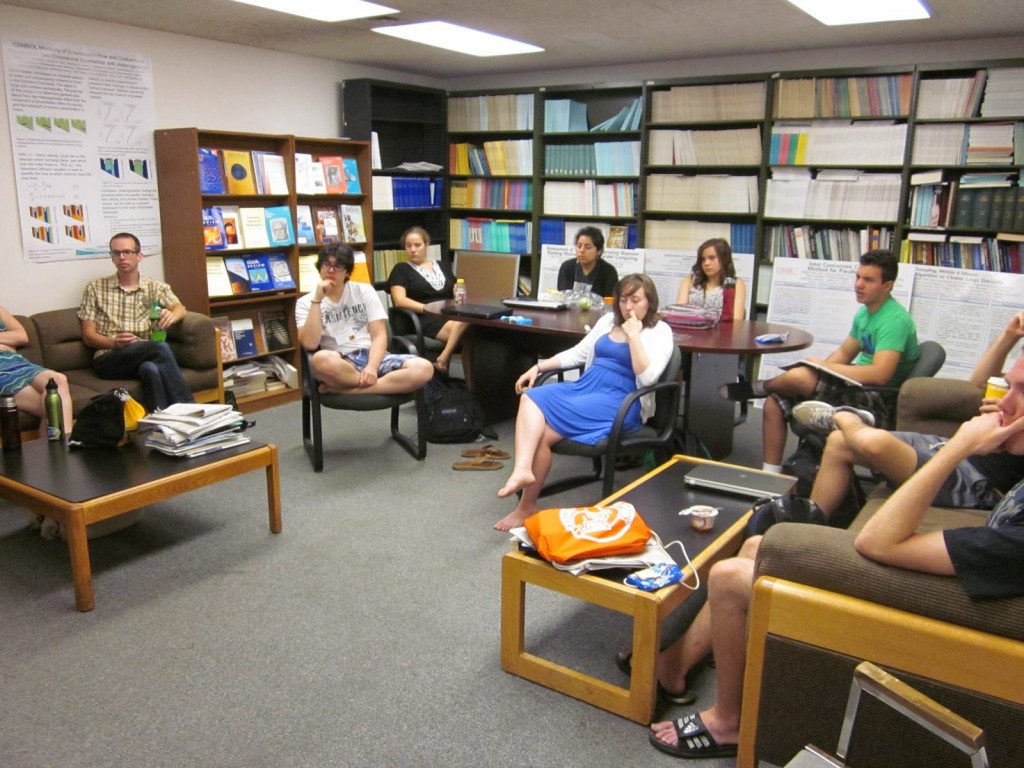 VIP meeting with Gagan Singh, Editor of the UMBC Review
Wednesday, 08/01/12, 09:00am-09:30am
This morning, the REU Site hosted Gagan Singh, Editor of the UMBC Review: Journal of Undergraduate Research. She spoke with us about the process of submitting a paper to a journal. She also told us about the specifics behind editing papers for the UMBC Review. The review process takes months to complete and involves constant interaction between the writer and editors, resulting in a cleanly polished paper. The Review sends papers to professors and editors off-campus in order to remove any bias in the selection and editing of papers. Ms. Singh also focused on the content of papers, saying that it is important to keep a paper's general readability, but to also be wary of oversimplifying complex subjects. We were all very grateful to have Ms. Singh gives us such an informative look at the process of submitting a proper paper to a journal.
— Christian Weigandt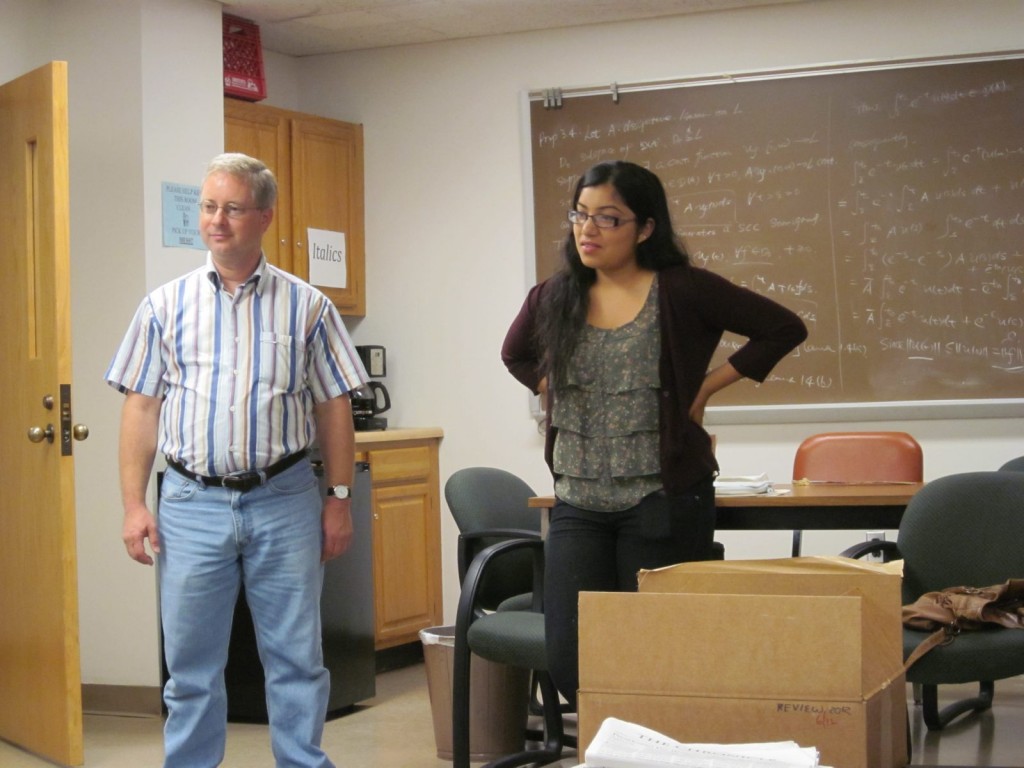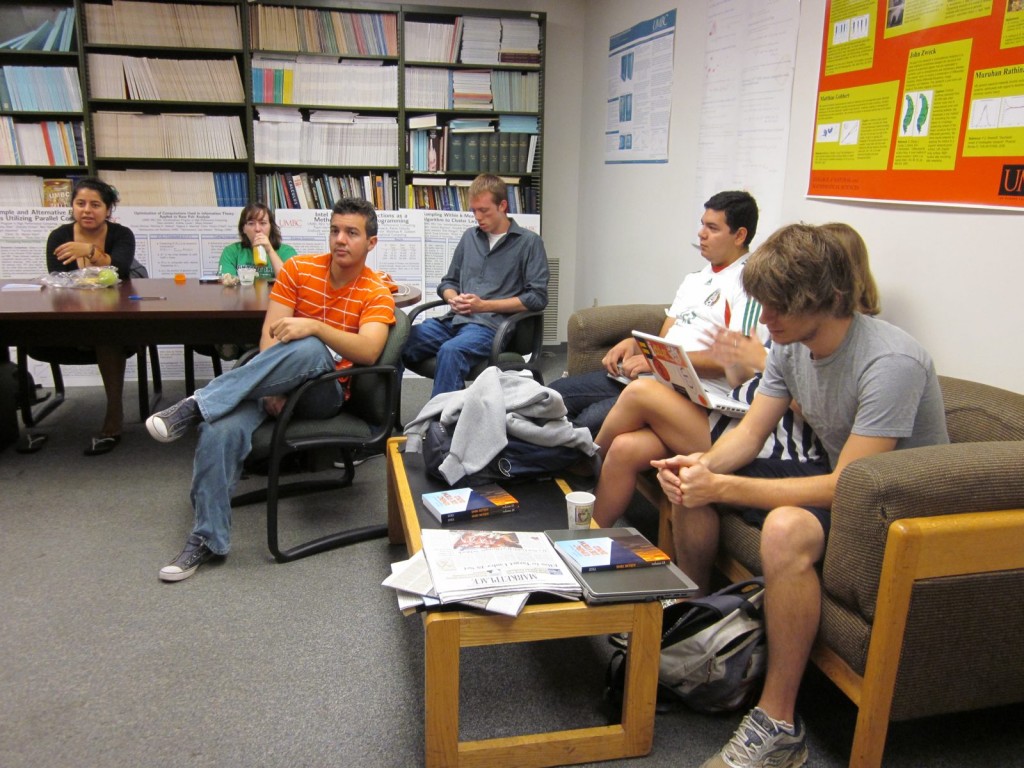 Tour of Tara
Wednesday, 08/01/12, 09:30am-10:00am
We toured the main computer room of the UMBC Division of Information Technology that also houses the cluster tara. Thanks to the system administrator Randy Philipp for showing us around.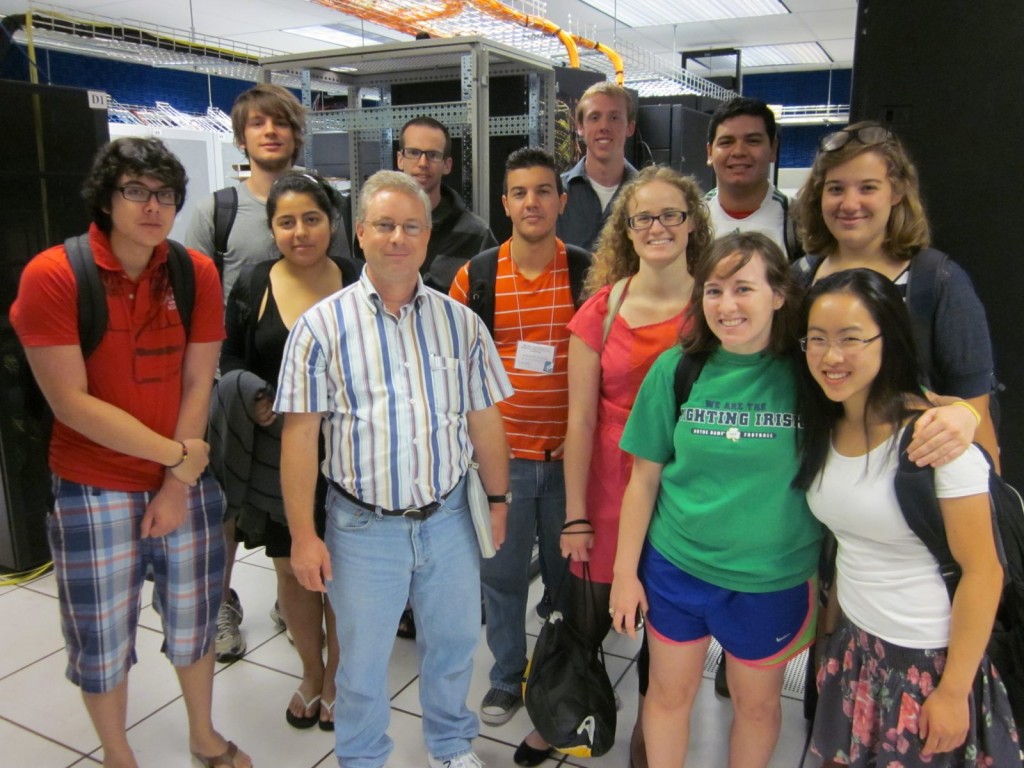 SURF at UMBC
Wednesday, 08/08/12, 09:00am-12:30pm