This page contains brief reports and photos of special events the REU Site hosted or participated in.
For more photos, please view the Photo Album.
Sunday, 06/19/2011

, 05:00pm-07:00pm

We welcomed all participants in the REU Site with a pizza dinner. Dr. Gobbert and Dr. Neerchal explained the idea of the program as applying scientific, parallel, and statistical computing tools to application problems. The work is done in teams and with support of graduate assistants and faculty, who all introduced themselves.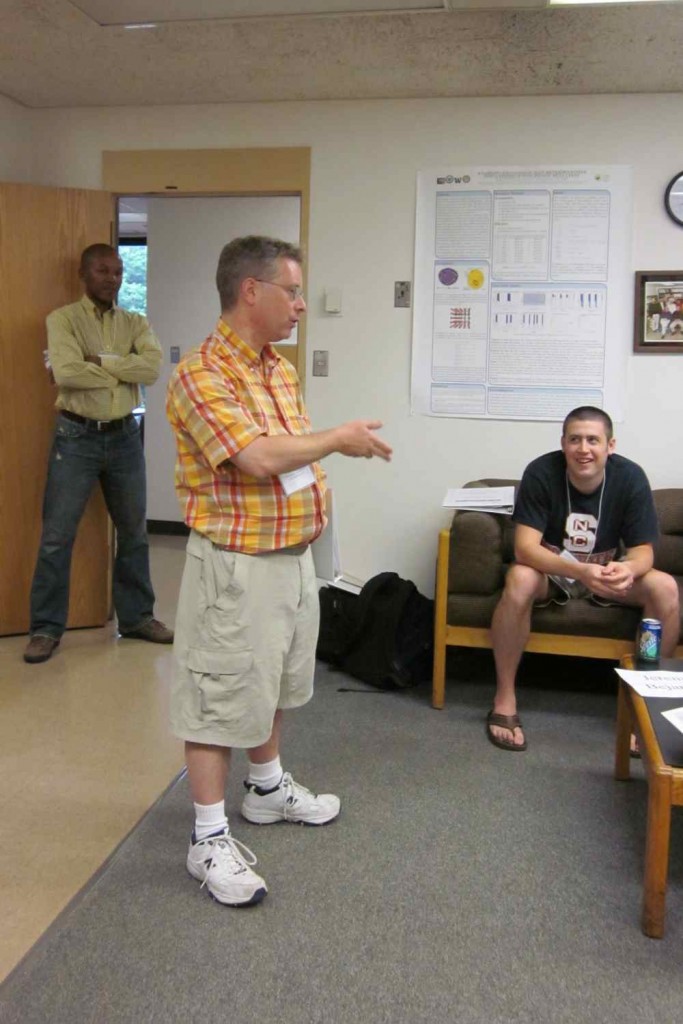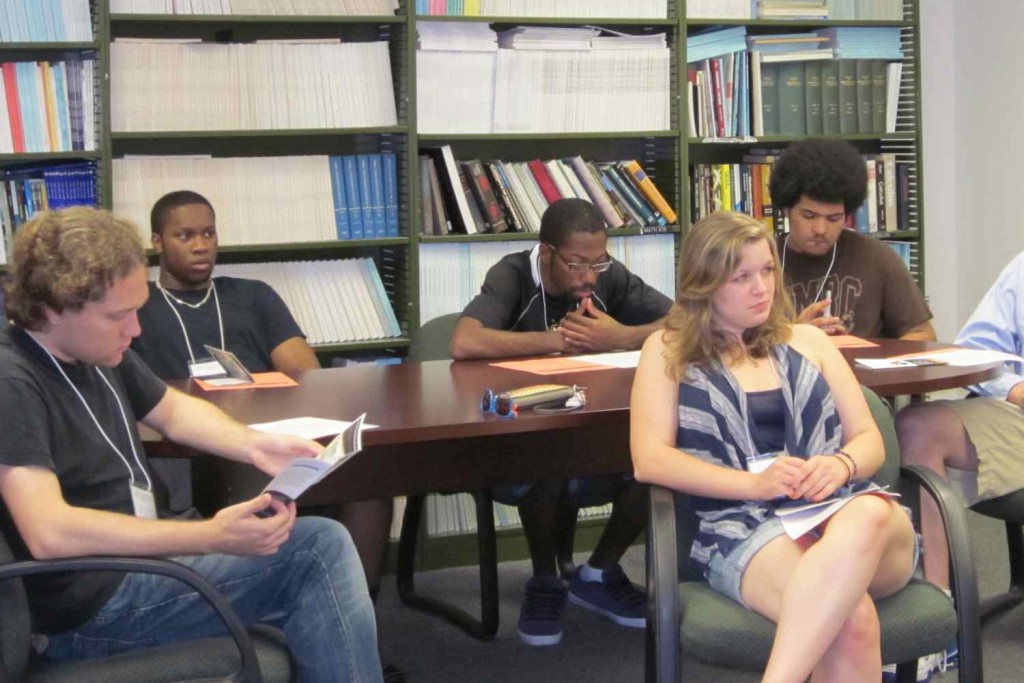 Back to Detailed Schedule   |  Top of page
Wednesday, 06/23/2011

, 09:00am-09:30am

The REU participants met in the morning before classes to talk with Dr. Neerchal. As the Department Chair of the Mathematics and Statistics at UMBC, Dr. Neerchal was able to teach us about the university structure and advise us about the process of applying for graduate school. A central goal of the REU program at UMBC is to prepare undergraduates for success in graduate school.
— Jeremy Bejarano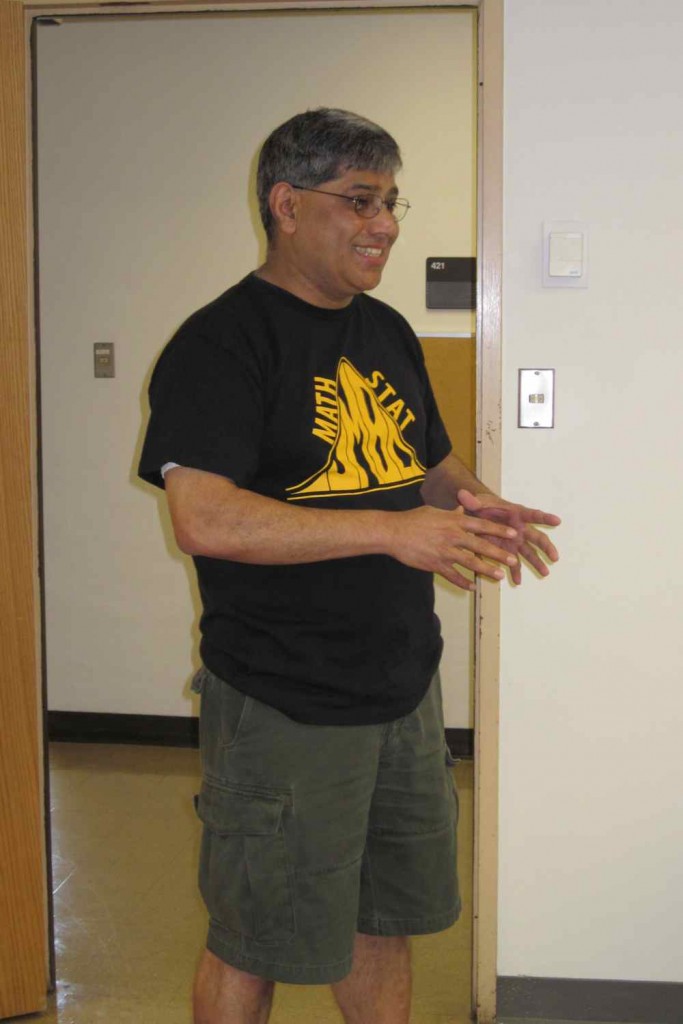 Back to Detailed Schedule   |  Top of page
Thursday, 06/23/2011

, 02:00pm-04:30pm

Four speakers gave presentations. The first speaker Michael Curtis is our peer mentor. Besides explaining the science of this project, he gave the participants some insights on how the mechanics of project and team work can go. The following three speakers presented their potential research projects.
Michael Curtis, UMBC, REU Site Peer Mentor
Parallelization of Matrix Factorization for Recommender Systems
Dr. Matthew Baker, UMBC Department of Geography and Environmental Systems
Consequences of Discontinuous Geologic Strata for Groundwater Travel Times and Pollutant Transport in Maryland's Coastal Plain
Dr. Charles Eggleton and Alex Szatmary , UMBC Department of Mechanical Engineering
Parallelization of Cell Simulation Software
Dr. Ivan Erill and Patrick O'Neill, UMBC Department of Biological Sciences
Molecular Information Theory in Transcription Factor Analysis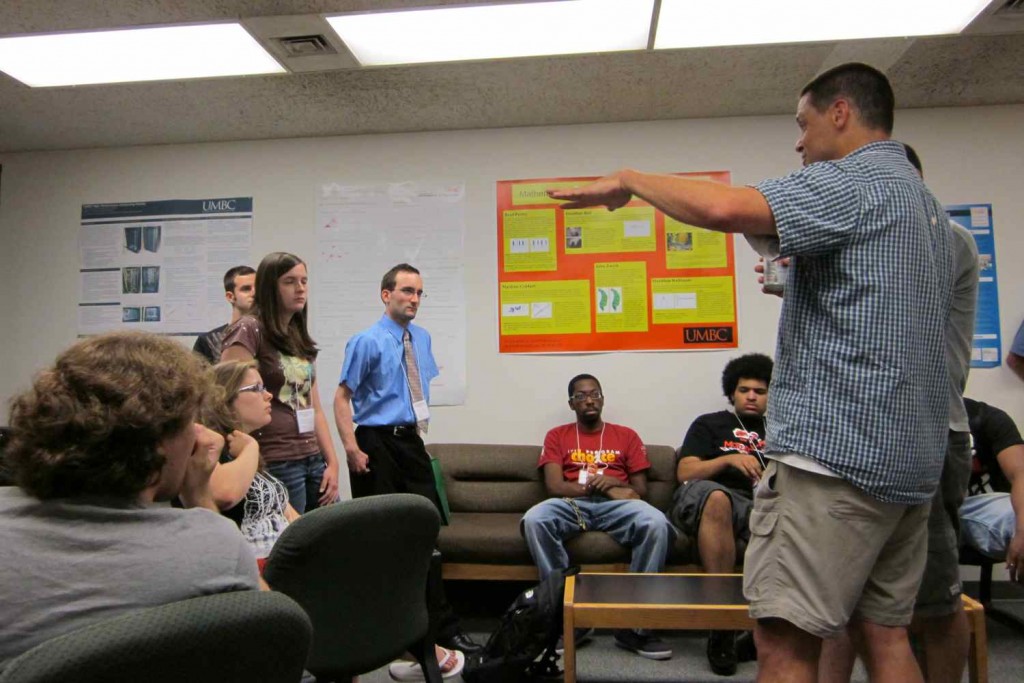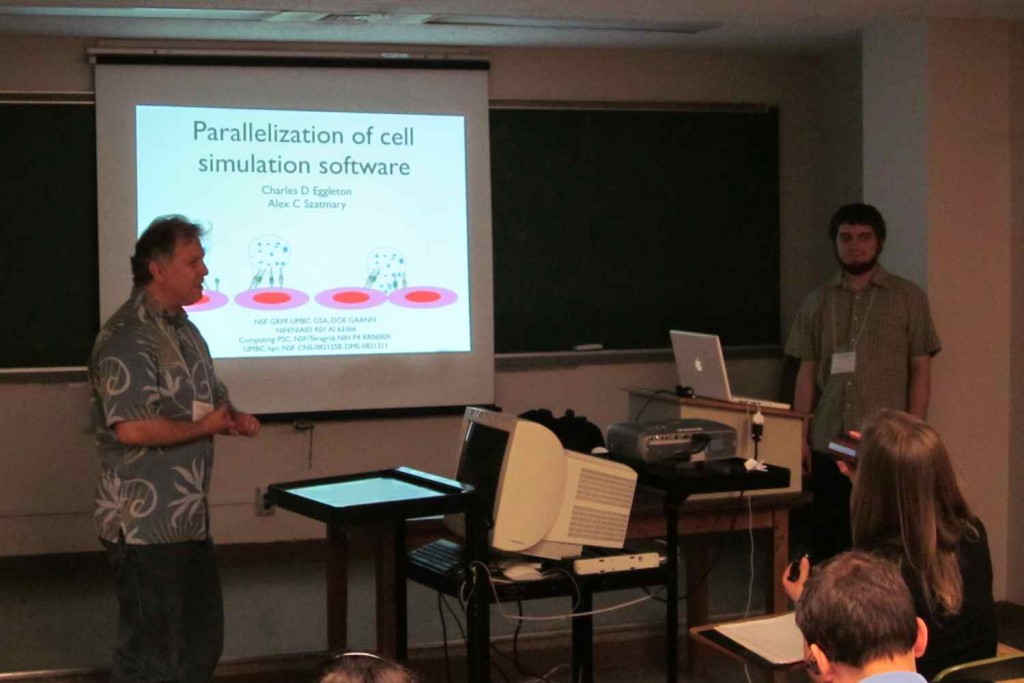 Back to Detailed Schedule   |  Top of page
Thursday, 06/23/2011

, 05:30pm-07:30pm

We concluded the afternoon of client presentations with a dinner at Hunan Manor in Columbia. It was a chance to talk more informally. The students had already many questions about graduate school and used the graduate student in attendance to good effect.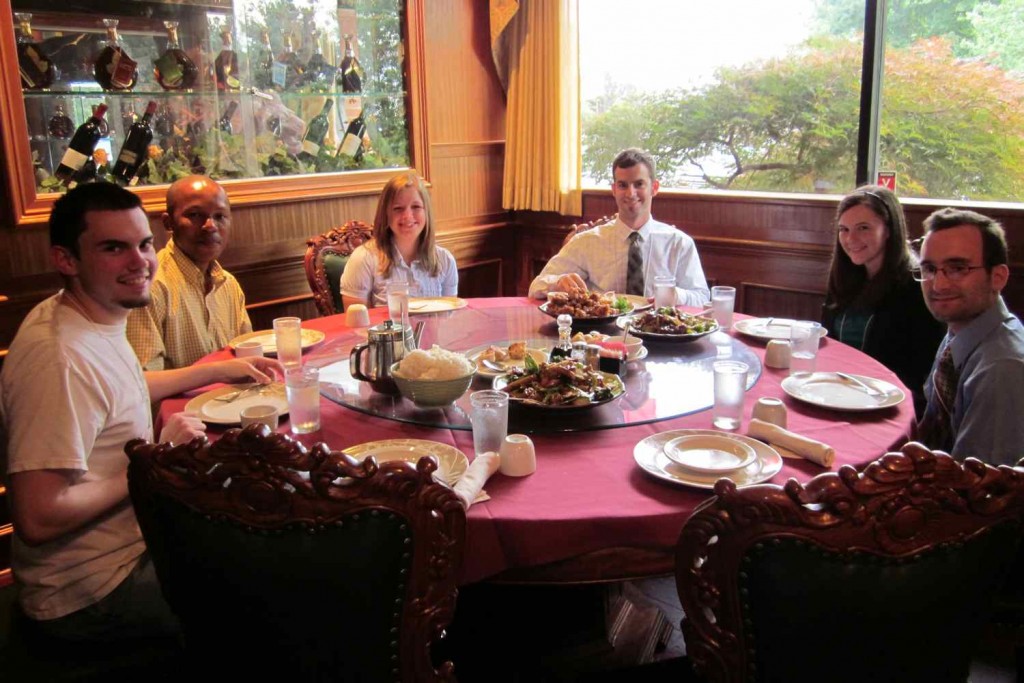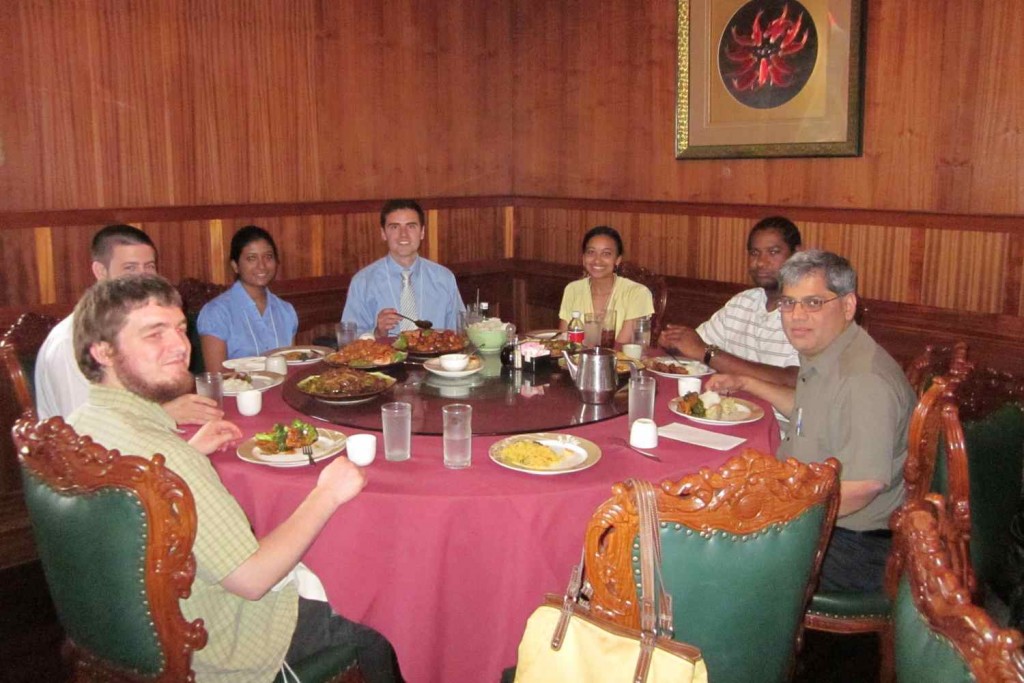 Back to Detailed Schedule   |  Top of page
Friday, 06/24/2011

, 09:00am-09:30am

We met with the Dean of the College of Natural and Mathematical Sciences, Dr. Philip Rous. We discussed his career and shared some details about ourselves. He showed us UMBC's CASTLE, the CNMS Active Science Teaching and Learning Environment. Dean Rous informed us of both goals and purposes of CASTLE and how those were kept in mind when designing CASTLE to optimize each student's learning experience.
— Tyler Brannan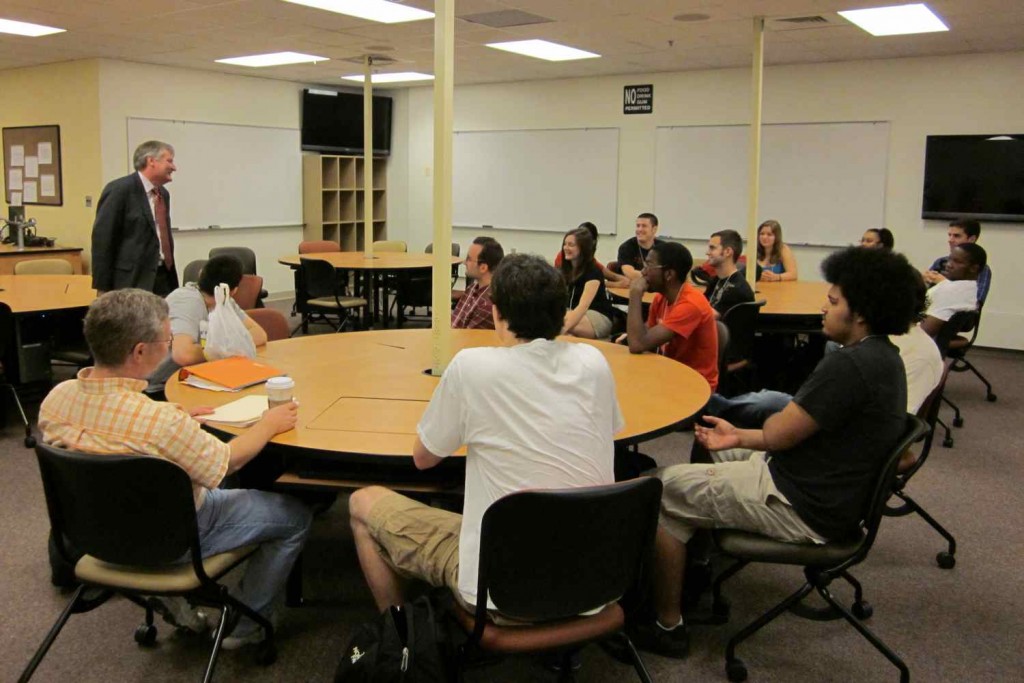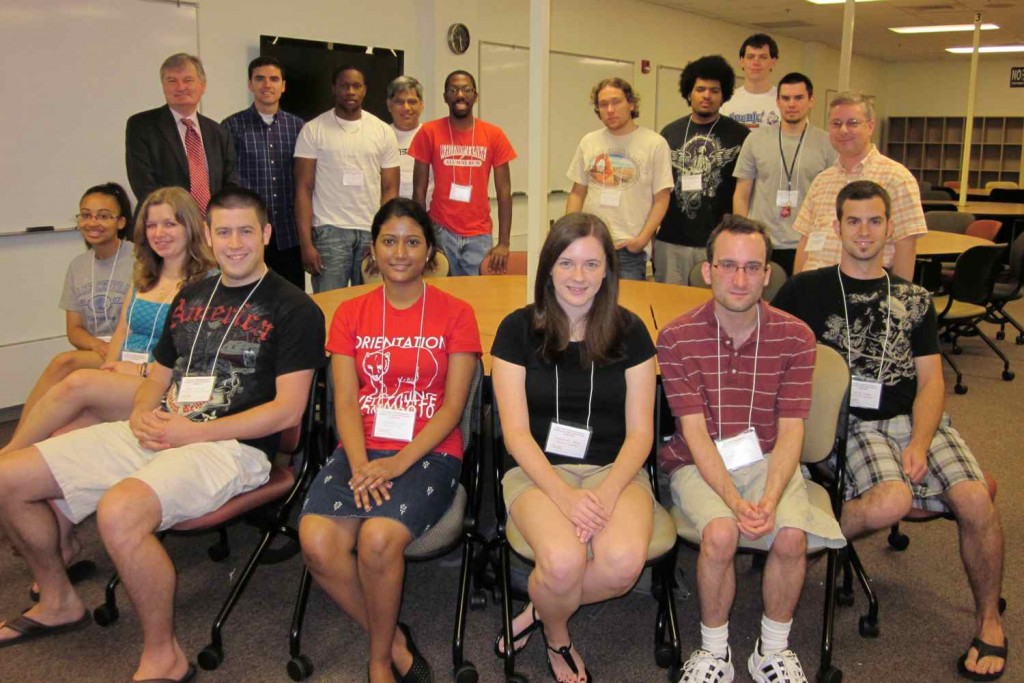 Back to Detailed Schedule   |  Top of page
Wednesday, 06/29/2011

, 09:00am-09:30am

UMBC President Dr. Freeman Hrabowski met with the HPCREU participants to discuss why programs like the HPCREU program are such an important part of undergraduate learning, especially for those considering further education. He urged each of us to develop a "hunger for knowledge", and emphasized creative thinking and teamwork as essential parts of a productive learning environment. He shared with us his passion for speaking with students face to face and motivating them to consider careers in the math and science fields.
— Derek Wade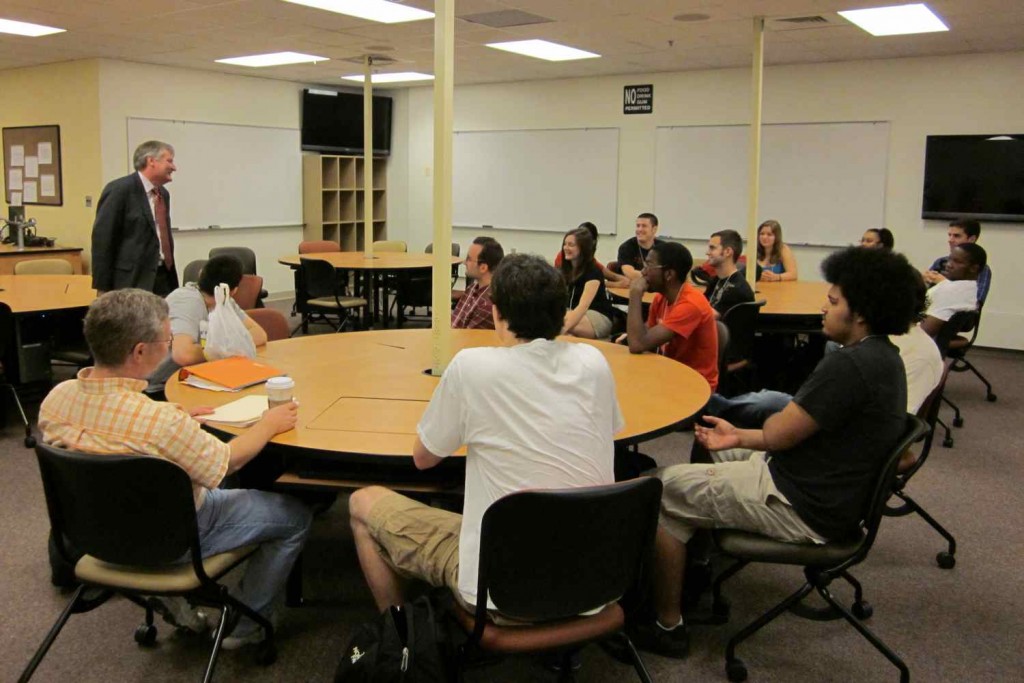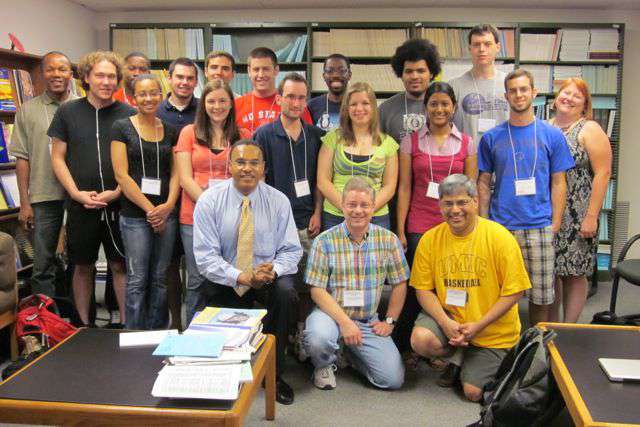 Back to Detailed Schedule   |  Top of page
Wednesday, 06/29/2011

, 01:00pm-01:30pm

One potential client could not make the Thursday slot and therefore presented at this special time slot:
Dr. Elsa Schaefer, Department of Mathematics, Marymount University
Model Assumptions and Corresponding Implications for Behavior of a Cholera Outbreak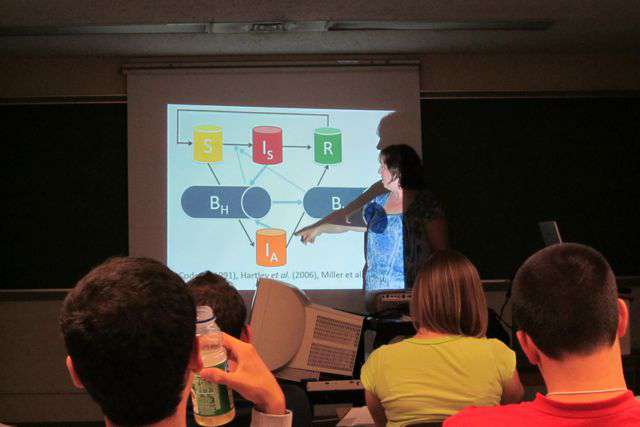 Back to Detailed Schedule   |  Top of page
Thursday, 06/30/2011

, 02:00pm-04:00pm

Today, the final three research clients presented their potential projects.
Dr. Loring Craymer, NSA
Harnessing Parallelism
Dr. Martin Klein, U.S. Census Bureau
Ranking Procedures for Several Normal Populations: An Empirical Investigation
Dr. George Ostrouchov, Oak Ridge National Laboratory
Tools for Sampling Large Distributed Data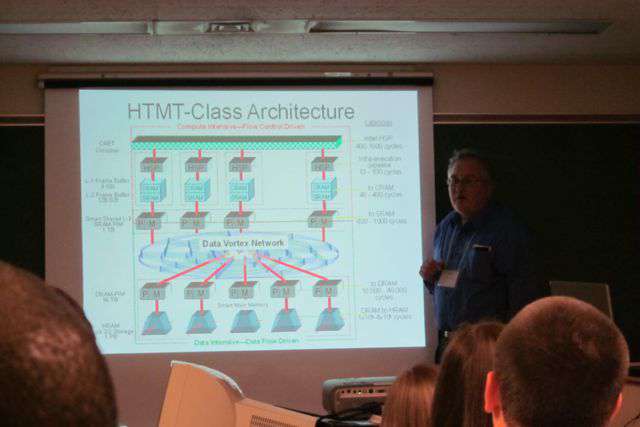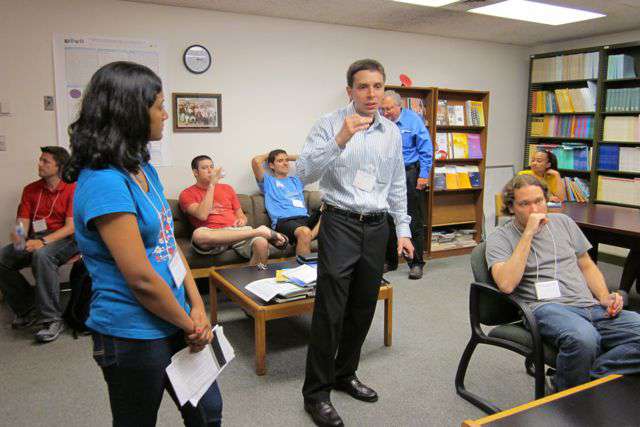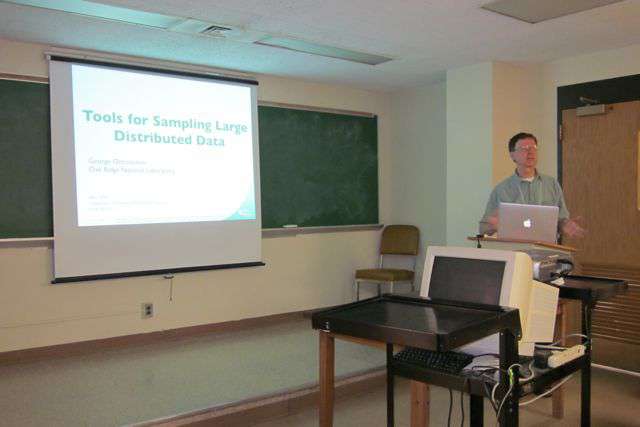 Back to Detailed Schedule   |  Top of page
Thursday, 06/30/2011

, 05:30pm-07:30pm

We had dinner with the clients at Paradise Club in Catonsville. The students got insight into career choices inside and ouside academia, when all faculty, clients, and graduate students discussed their choices and experiences briefly.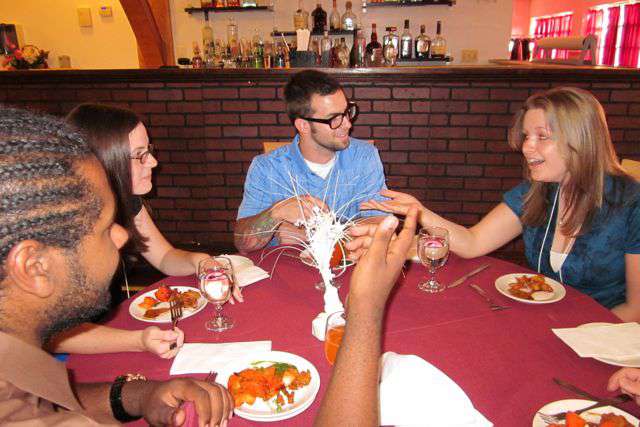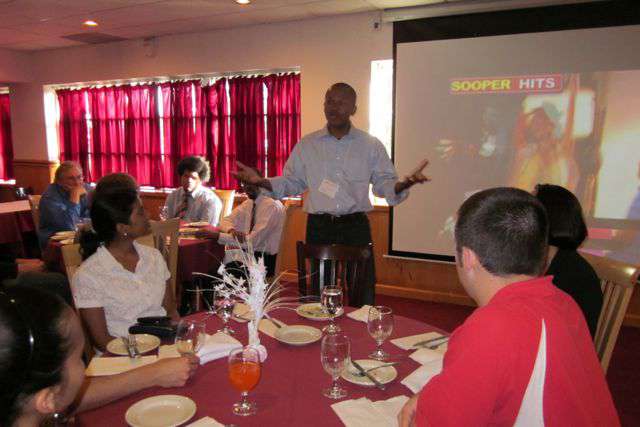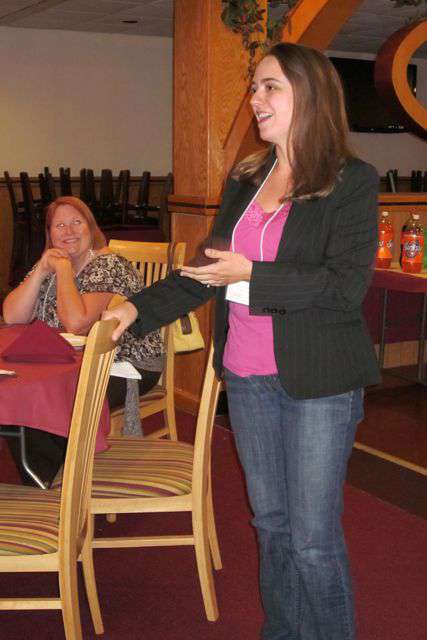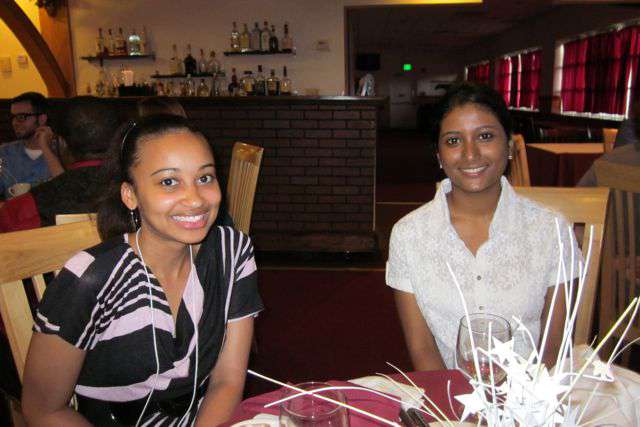 Back to Detailed Schedule   |  Top of page
Friday, 07/01/2011

, 09:30am-10:00am

David Trott presented the state-of-the-art software package COMSOL Multiphysics that is used in the project proposed by Dr. Matthew Baker last week. This gives an impression what it might mean to pick that project.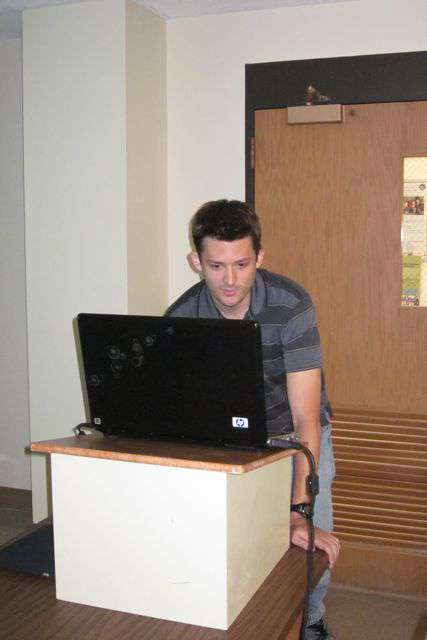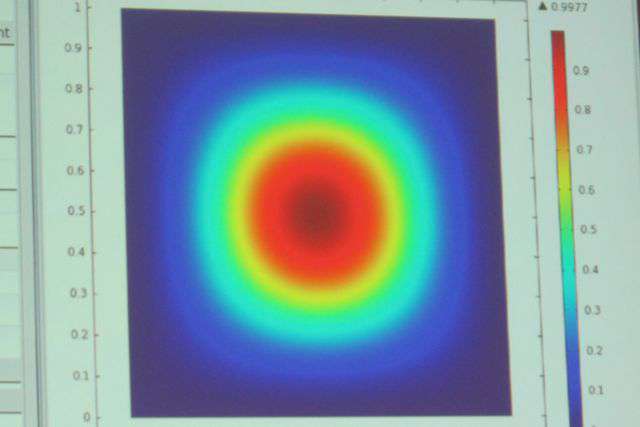 Back to Detailed Schedule   |  Top of page
Thursday, 07/07/2011

, 04:30pm-07:00pm

The REU participants met with Dr. Janet Rutledge, the Dean of the Graduate School at UMBC. She gave a presentation entitled Creating Effective Graduate School and Fellowship Applications. She talked about how graduate schools work, and how a master's or a doctorate degree is different form an undergraduate one. She elaborated on the process of applying to graduate school, how to choose which schools to apply to, and the types of funding available. She gave us advice on putting together strong and effective applications. The evening concluded with dinner at the dining hall, where the students had a chance to talk to Dean Rutledge more informally and ask more specific questions regarding graduate school and career paths.
— Koushiki Bose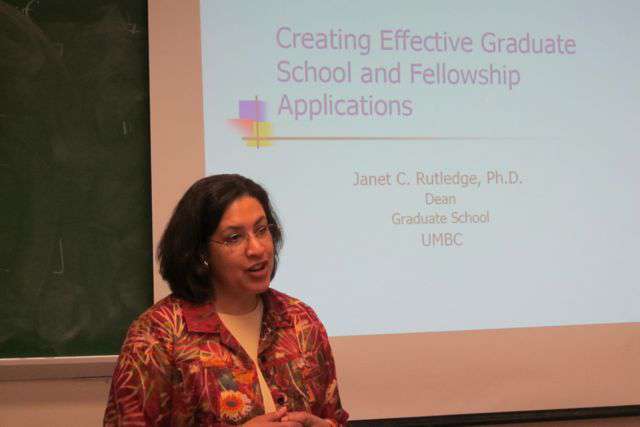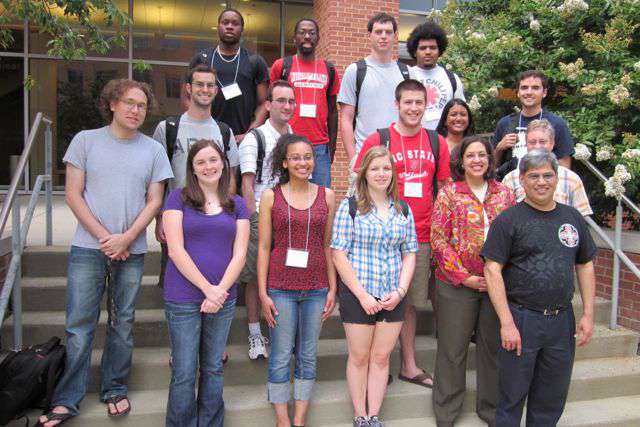 Back to Detailed Schedule   |  Top of page
Friday, 07/08/2011

, 09:30am-09:50am

The system administrator Aaron Knister from the Division of Information Technology gave a tour of the tara system that we utilize for parallel computing research. He outlined the specifications of the system, future plans for expansion, and the total cost of the system. It is estimated that the power required to cool the system is equivalent to the amount needed to cool three average size homes.
— Neil Obetz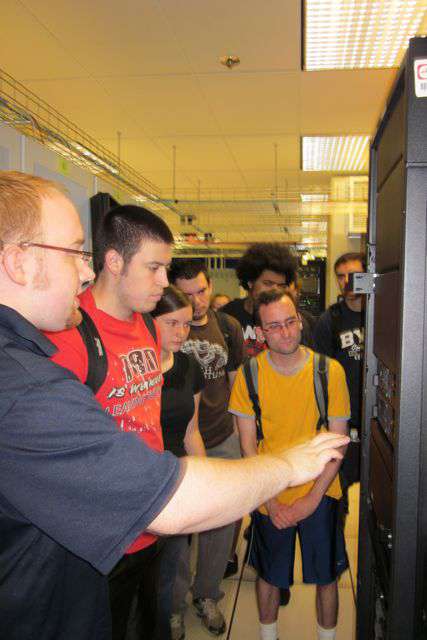 Back to Detailed Schedule   |  Top of page
Thursday, 07/14/2011

, 04:00pm-05:00pm

Kathy L. Sutphin, Assistant Dean for Academic Affairs in the College of Natural and Mathematical Sciences, spoke about preparing posters for the upcoming Summer Undergraduate Research Fest (SURF). In addition to relaying conference specifics such as order of events, appropriate dress, and poster submission requirements, she also communicated effective poster design, content, and presentation techniques. This talk was especially helpful, as many participants of this REU site will present research for the first time at SURF.
— Anita Thomas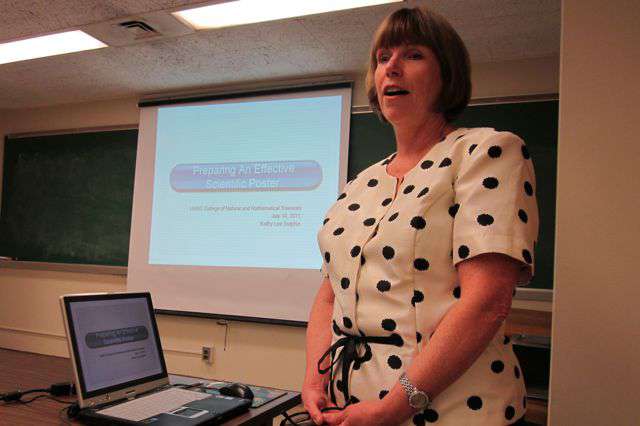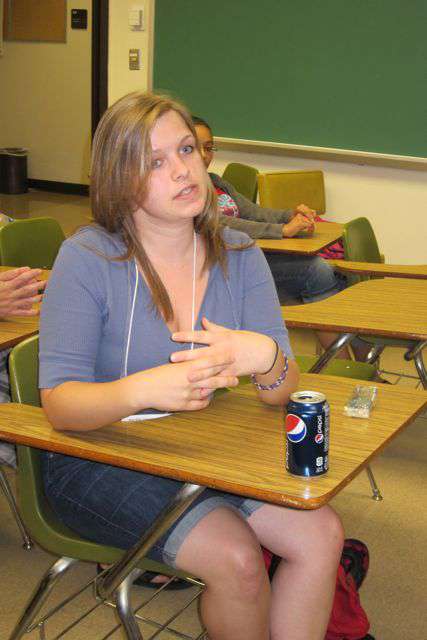 Back to Detailed Schedule   |  Top of page
Tuesday, 07/19/2011

, 09:00am-09:30am

The REU students met with Dr. Don Engel, Assistant Vice President for Research at UMBC. He shared his extensive professional background including his time spent in politics. Dr. Engel also discussed his role here at the university and stressed the importance of interdisciplinary research. He advised students who are planning to attend graduate school to aim on finding the best fit, not the highest ranked, graduate school.
— Samantha Allen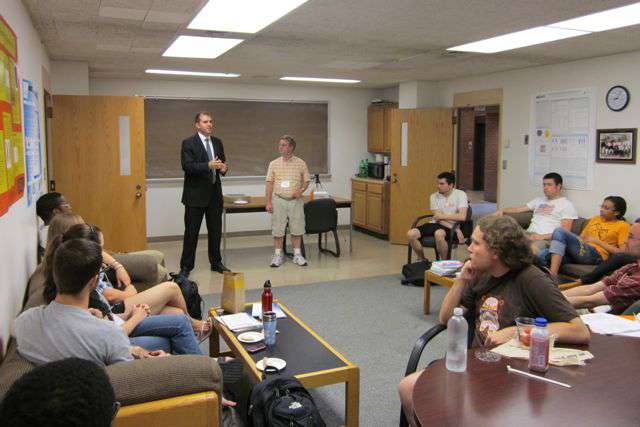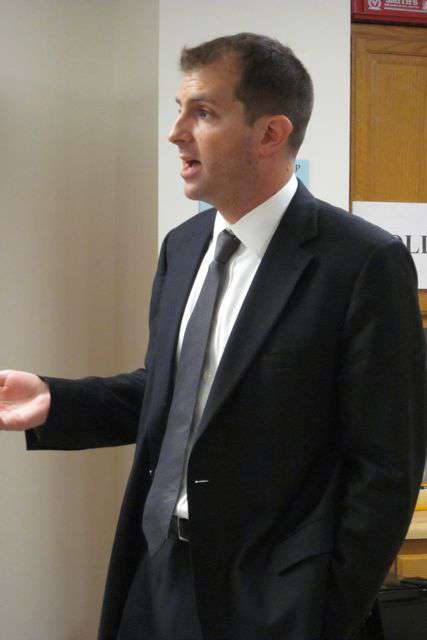 Back to Detailed Schedule   |  Top of page
Wednesday, 07/20/2011

, 09:00am-09:30am

Yvette Mozie-Ross, Assistant Provost for Enrollment Management, spoke about paying it forward. Her dissertation concerns the relation between certain demographics of high school students and if parents or teachers had a higher influence on students. She encouraged us to motivate and inspire students of all ages to continue their education, as we had been influenced ourselves. This was a very important reminder of the opportunities in our lives and that we should pay it forward to pass these opportunities on to others.
— Dorothy Kirlew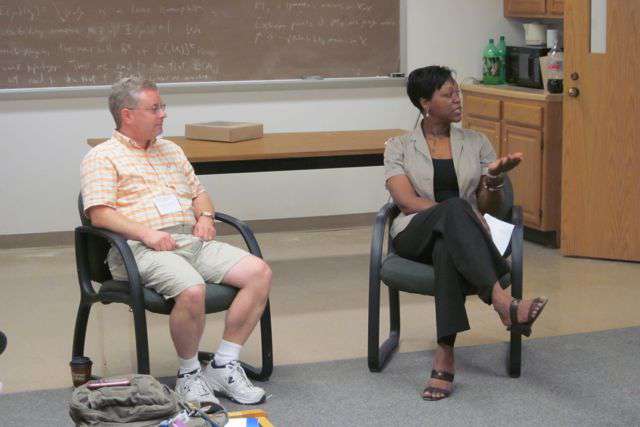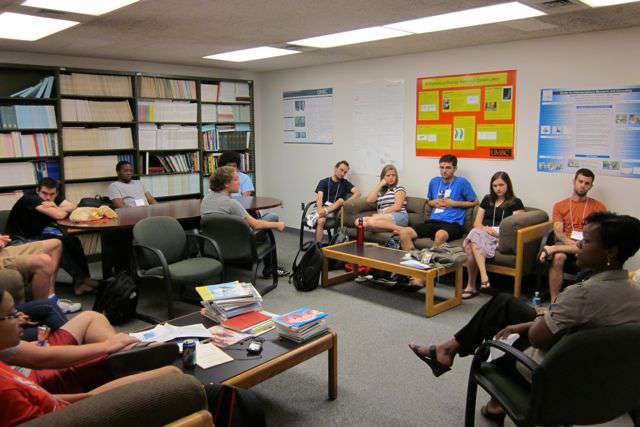 Back to Detailed Schedule   |  Top of page
Thursday, 07/21/2011

, 11:45am-05:00pm

Today we took a UMBC bus down to NASA Goddard Space Flight Center in Greenbelt, MD (coincidentally, on the day of the final Space Shuttle landing). The tour started in the Earth Science Gallery where the research participants explored various attractions such as a life size model of a Command Capsule and a computer demonstration of global warming. Then the participants were shown Alpha Centauri of the Milky Way, Solar Storms, and the Solar System (in particular, Jupiter, Mars, and the Earth) as stereo-projections on a 6-foot sphere.

Next stop was the NASA Center for Climate Simulation (NCCS) which is facilitated by a Discover super-computer of nearly 15,000 processors (8,000 of which use the Nehalem architecture and were added in 2009). The center director explained that their computer uses Infiniband (as does Tara), an optical fiber structure, for communication between nodes. These weather and climate simulations then were demonstrated on the 17 by 6 foot Hyperwall, which is a composition of multiple screens used for high-definition data visualization.
The tour went forward to observe the world's largest clean room where the James Webb Space Telescope is being constructed. The clean room is 1.3 million cubic feet of space where any cubic foot of air has no more than 10,000 particles larger than half a micron. With a mirror six times the size of Hubble's, the James Webb Telescope will explore the light from the time of the first galaxies to the formation of our own Solar System in the infrared spectrum, allowing the observation of dimmer and cooler objects.
— Alexey Ilchenko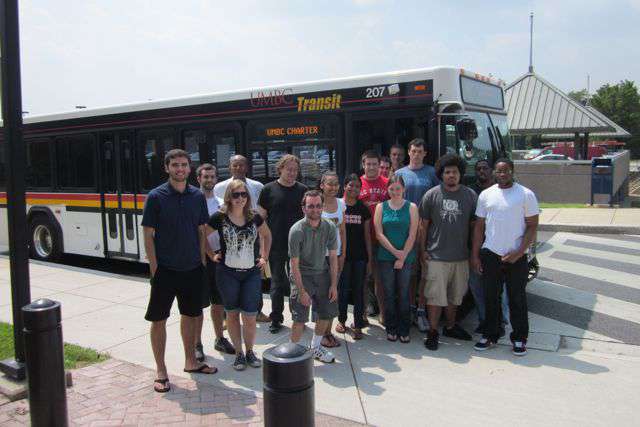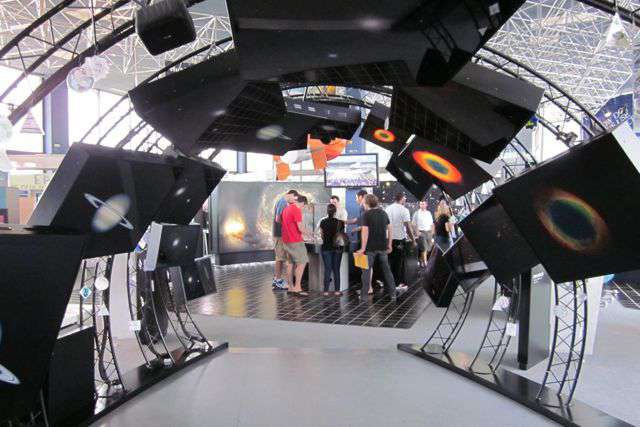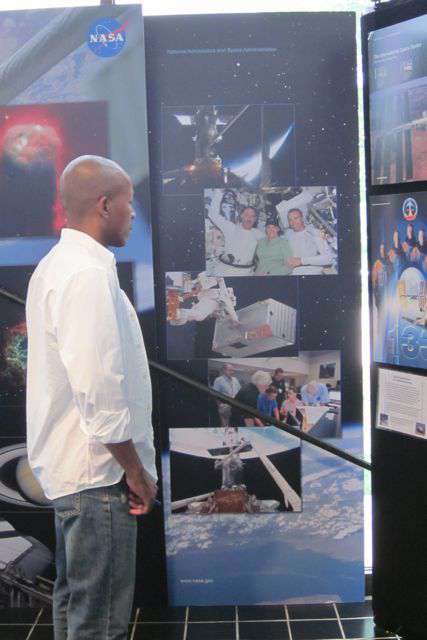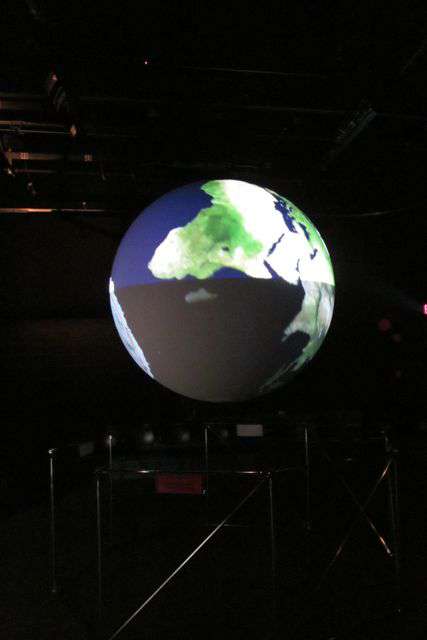 Back to Detailed Schedule   |  Top of page
Wednesday, 07/27/2011

, 09:30am-05:00pm

Before visiting the NSA building itself, the students visited NSA's publicly available National Cryptologic Museum, which documents the history of cryptology in the US as well as the rest of the world.

Following that, the REU students visited the National Security Agency itself to experience four talks from various NSA employees: First, Dr. Mel Currie gave a talk about DNA inheritance and how it relates to mathematics using the example of the Fibonacci sequence. Next, David Mountain gave us an overview of NSA's ACS program. After that, Mark McLean described his methods for developing machine learning based off how the human brain is constructed. Finally, co-op student Walt Ratcliff showed a demo illustrating his new facial recognition system that can, amongst other things, determine whether or not people are wearing sunglasses.
— Richard Adjogah

Back to Detailed Schedule   |  Top of page
Thursday, 07/28/2011

, 04:00pm-07:00pm

The REU participants met with Dr. Ken Baron, the Director of the Office for Academic and Pre-Professional Advising, who talked about preparing for Graduate School. His presentation discusses important topics needed when applying for graduate school including how to write essays based on experience within the field (not just classwork), fostering strong relationships with mentors and faculty, having a back-up plan, and choosing a research supervisor who has a record of helping students complete their task. Dr. Baron recommended the bookGraduate Admissions Essays by Donald Asher as a good reference for questions regarding graduate school. After the presentation, the students had dinner with Dr. Baron to end the night.
— Ekene Sibeubu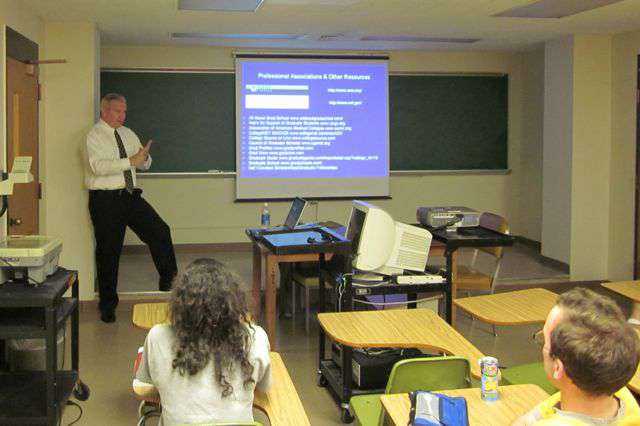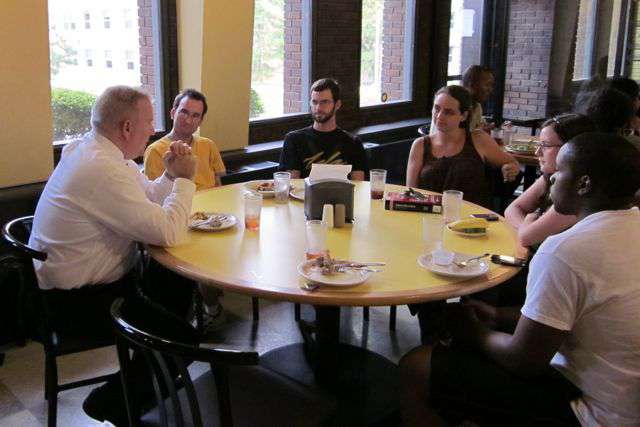 Back to Detailed Schedule   |  Top of page
Wednesday, 08/03/2011

, 09:00am-09:30am

We met with Dr. Kathleen Hoffman, Graduate Program Director for the Applied Mathematics graduate program at UMBC. She gave her insight on what graduate program directors might look for in applicants to their program. She expressed the importance of getting letters of recommendation from upper level instructors in the same major as the one being applied to. Also, she explained that grades in one's major, undergraduate research, and standardized tests play a heavy factor into the graduate admission decision. Finally, she discussed specifics about the UMBC MS and PhD math programs such as comprehensive and oral exams, orientations, and dissertations.
— Randal Mckissack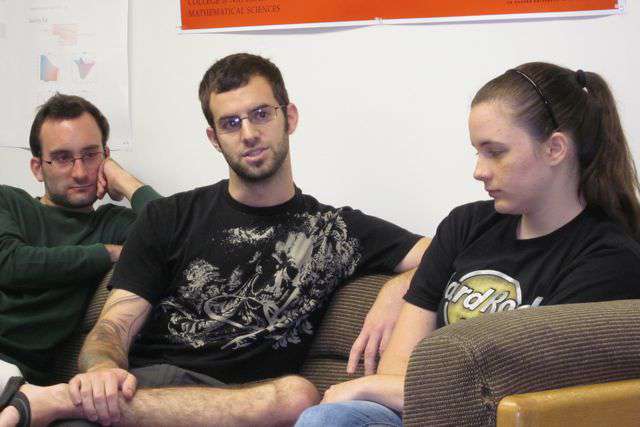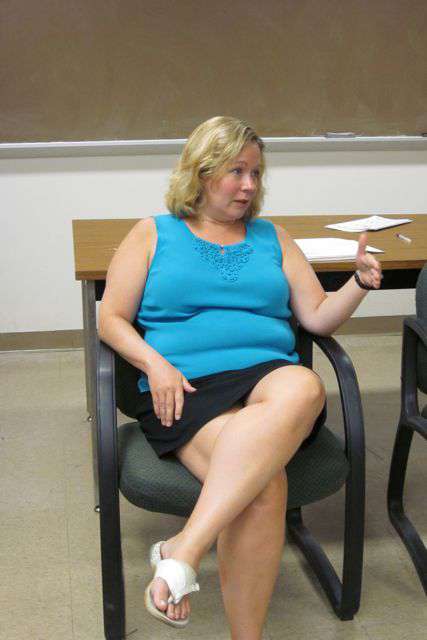 Back to Detailed Schedule   |  Top of page
Friday, 08/05/2011

, 09:00am-09:30am

Esther Gross and Melanie Dell, editors of the UMBC Review, spoke about the process of getting a paper published in a journal. Esther Gross is the editor of mathematics and science submissions to the UMBC Review. She talked to us about her role in the publication process and gave us insight into what to expect if we submitted our papers to journals. Melanie Dell is the editor of the humanities and literary submissions to the UMBC Review. Her comments allowed us to see the contrasts between science and humanities submission processes. We learned about the technical specifications of the UMBC Review as well as the acceptance rate. Lastly, we discussed the importance of having work published in journals, and how to determine which journal is right for a paper.
— Matthew Brewster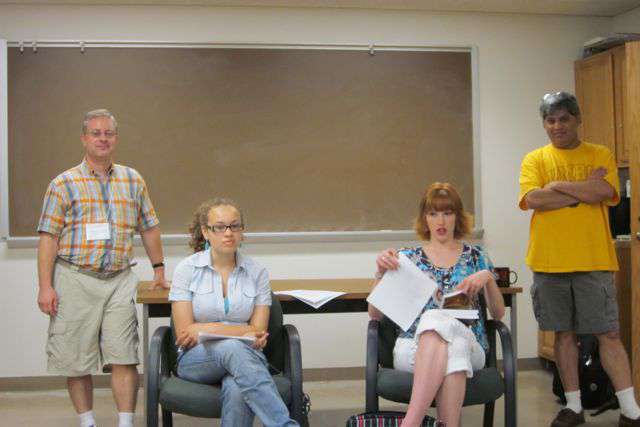 Back to Detailed Schedule   |  Top of page
Wednesday, 08/10/2011

, 09:00am-12:30pm

We are very happy that our REU Site kicked off the 14th Annual Summer Undergraduate Research Fest (SURF) at UMBC with an oral presentation, jointly presented by Samantha Allen and Neil Obetz of Team 1.

All teams presented their results during the poster session. Team 1 of Samantha Allen, Dorothy Kirlew, Neil Obetz, and Derek Wade is shown with graduate assistant April Albertine and faculty mentor Nagaraj Neerchal. Team 2 of Jeremy Bejarano, Koushiki Bose, Tyler Brannan, and Anita Thomas is shown with faculty mentors Kofi Adragni and Nagaraj Neerchal. The clients Martin Klein and George Ostrouchov, respectively, received the results of the work on the following day. Team 3 of Andrew Coates and Alexey Ilchenko presented their poster to the clients Patrick O'Neill and Ivan Erill (clients not in photo). Team 4 of Richard Adjogah, Randal Mckissack, and Ekene Sibeudu is shown with client Loring Craymer and faculty mentor Matthias Gobbert. Also undergraduate assistant Matthew Brewster presented his research, shown here explaining it to an audience member.
In the closing session, the program directors Matthias Gobbert and Nagaraj Neerchal (at microphone) present the SURF certificates to all participants. Finally, all members of the REU Site with their posters pose with undergraduate and graduate assistants, faculty mentors, and the clients present.